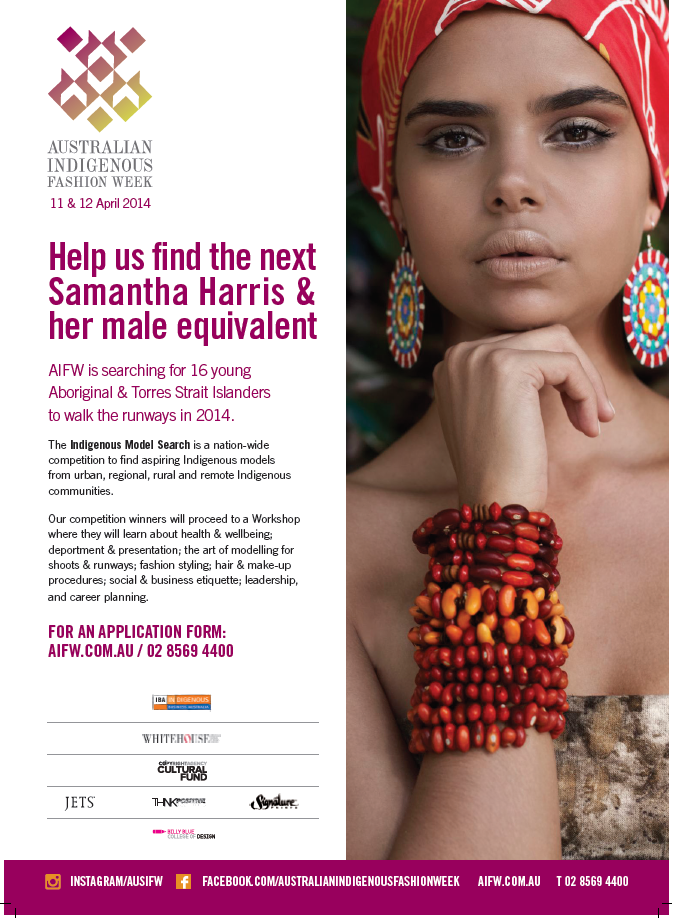 Australian Indigenous Fashion Week (AIFW™) is looking for Australia's freshest new Indigenous face, through its Indigenous Model Search Competition launched on Tuesday at the National Centre for Indigenous Excellence in Redfern, Sydney.
Partnering with Australia's leading model and talent agency, Chic Management and backed by Indigenous supermodel and AIFW™ ambassador Samantha Harris, the nationwide competition plans to shift perceptions and encourage diversity within the fashion and modelling industries, by discovering 16 young Indigenous faces to grace the AIFW™ catwalks.
"I'm so excited to be working with AIFW as their ambassador and judge of the Indigenous Model Search Competition. This is something that would never have happened in my mother's time," super model Samantha Harris says.
"It really does feel like we're making a little bit of history."
The competition is open to young male and female Indigenous Australians from urban, regional, rural and remote Indigenous communities who have a keen interest in the modelling industry.
Entrants can fill out the application form online which can be found at www.aifw.com.au and supply a resume, images and/or video and a one page cover letter outlining their career aspirations and goals. Entries close Friday, January 10, 2014.
"AIFW™ is the first event of its kind, bringing together Aboriginal and Torres Strait Islander communities, designers and talent under one roof, our aim is to foster Indigenous economic advancement, while nurturing and developing talent through the Indigenous Model Competition," says Krystal Perkins, Director of AIFW™.
A panel of industry experts and AIFW™ Ambassador Samantha Harris will judge the entries of the Indigenous Model Search Competition and on January 24 2014, the eight male and eight female finalists, to take part in an extensive series of modelling workshops will be announced.
The unique workshops held at the National Centre for Indigenous Excellence –AIFW's official venue partner- are developed in partnership with Chic Management and will nurture and develop Indigenous talent by providing education, skills-based training, and mentoring in relation to the modelling industry, covering: fashion styling, health and wellbeing, career planning and the technical aspects of runway and commercial modelling.
"Chic Management is thrilled to be involved in this wonderful modelling experience for young Indigenous Australians in collaboration with AIFW, we can't wait to get the model workshops underway and start to educate Indigenous youths about the Australian modelling and fashion industry," Paul Thomas from Chic Management says.
The 16 finalists will receive a professional make-over by a respected industry professional before their inaugural catwalk appearance during Australian Indigenous Fashion Week in April 2014.
Opportunities to sponsor the Indigenous Model Search Competition and Australian Indigenous Fashion Week are still available.
Sponsorship funds will go towards helping to fund travel and accommodation for the 16 finalists, as well as covering the fees for the workshop content, which will be an invaluable tool for each finalist in their modelling career development.