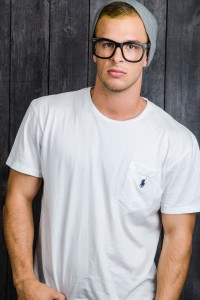 After careful consideration, Australian Indigenous Fashion Week (AIFW) has carefully selected 18 fresh faces to grace the catwalk in April.
One of the selected models includes Kane Wright, the sales and marketing coordinator at EORA Fitness at the National Centre of Indigenous Excellence (NCIE) – the same place that the event is due to be held in April.
He was hesitant at first, but after much persuasion from his colleagues, Kane applied for the model search and was successful.
"I was surprised, actually, because I got my application lodged in the last few days because all the guys here said to apply when AIFW™ first launched at the NCIE," Kane says.
"I was like nah, 'I'm not too sure', but the guys pressured me to go through with it and, when I got the call saying I'd been accepted, I was pretty stoked and over the moon by it."
Partnering with Australia's leading model and talent agency, Chic Management and backed by Indigenous supermodel and AIFW™ ambassador Samantha Harris, the nationwide competition envisioned that it would shift perceptions and encourage diversity within the fashion and modelling industries.
"At the end of March until April 4 we've got a 5 to 6 day workshop with Chic Management, which is one of the highest levels of model management in Australia," Kane explains.
"They run through workshops here at the NCIE and we'll be doing nutrition workshops, catwalk workshops and basically all your workshops in relation to the fashion and modelling industry."
Following the course, the two day fashion week will be in full swing, with a VIP Friday night show followed by a Saturday show open to the general public.
"It's an opportunity for young Indigenous people, designers, fashionistas and your models to showcase their talent. We're not only good sportsmen but we have talent in other areas as well," Kane says.
"Most of the guys are pretty excited that I get the opportunity to showcase my staff at Australian Indigenous Fashion Week. Everyone's excited for me, and I hope I live up to their expectations."
The other winners include:
NSW: Claire Cooper, Alinta Williams, Kriss Sharpe, Liam Coe, Danielle Kampers and Jade Dolman.
QLD: Jesse Onus, Celeste Carneigie, Jesse Green, Sinead Grehan, Nefenul James, Sian O'Briank, Mikhalyn Locke.
SA: Katrina Keeler
VIC: Grace Atkinson
WA: Shenika Rule
Torres Strait: Hans Ahwang.