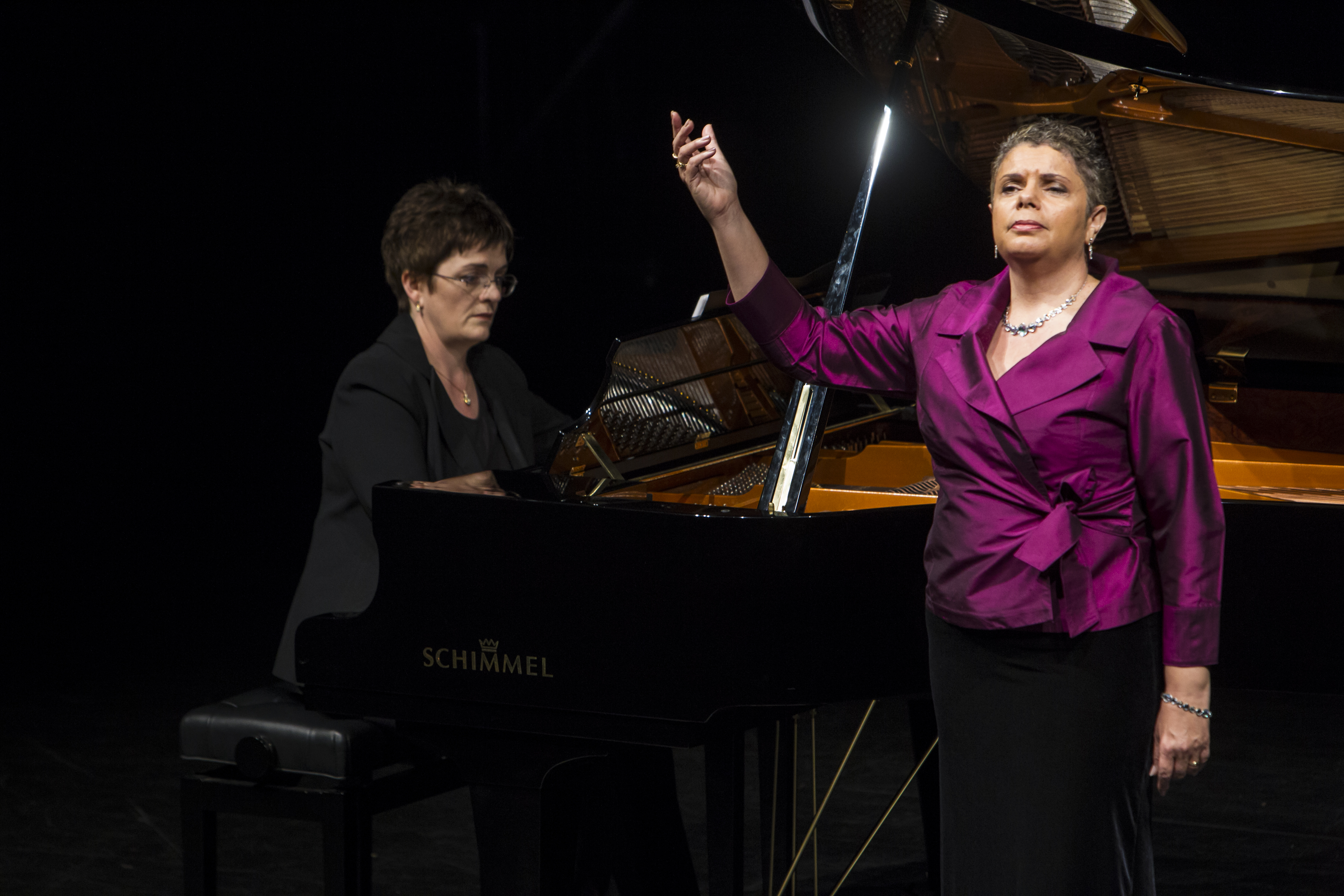 Proud Aboriginal woman, Australian of the Year finalist, world renowned soprano, composer, academic, actress, teacher and playwright are all fitting titles for Yorta Yorta descendent, Deborah Cheetham – a woman who has gained national and international fame through embracing her passion of the arts.
She has performed in the concert halls of Europe, written and performed Australia's first Indigenous Opera and built a company with the dream of helping young Aboriginal and Torres Strait Islander people find their potential in the arts.
Deborah will head off soon to perform at a conference in London on Indigenous identity in a global setting, as well as getting ready for the fourth season of Pecan Summer from 3-5 of July at Her Majesty's Theatre, Adelaide.
Born in Yuin Country in 1964, Deborah is a member of the Stolen Generations. She was taken from her mother Monica at just three weeks old and raised in a non-Indigenous, Baptist family.
"I didn't have a deprived upbringing in terms of education, material objects and the love of my adoptive parents. I had an identity that was also adopted and that identity was way too small for me," says Deborah.
"You are deprived of your culture, you are deprived of your family, you are deprived of a sense of belonging and that strong sense of identity that we all deserve to have."
After two years of searching, Deborah's mother Monica tracked her down but because her adoptive parents were under the assumption that she was abandoned, the police were called and her mother was taken away.
"In her (Deborah's adoptive mother) mind, she was desperate to rescue me from what she thought would be a terrible fate because of what she thought my mother had done," says Deborah.
"Sometimes they live with a fear that one day they are going to lose their baby to their true identity and, in my adoptive parents' case, she was always afraid that she would lose me.
"She couldn't know just how much Monica had to offer me – my identity, a connection to my grandparents, great grandparents, my ancestors who have lived on this continent for a thousand generations, the love of a community and a sense of belonging."
In her 20's, an age that people discover who they are independently of their parents, Deborah was still searching for that answer.
Although she was making waves as a Soprano, a piece of the puzzle was missing – this piece was found through music.
It was only when she saw a woman who looked like her "identical twin" in the audience as she performed in Canberra some decades ago, that the puzzle began to fit together. As the two got talking, Deborah was asked that "very difficult" question – "Who's your family?"
Deborah divulged the only piece of information she was allowed to have as a child, that the late Jimmy Little was her Uncle. This is where the journey back to her roots really began as she discovered the audience member that looked so much like her, were cousins.
"I took a long journey to find my way back to my Aboriginal family and it was always a journey that was led by music. My family and identity was always going to find me. At first it was really confronting; it was confusing. This is a world that I'd been completely cut off from."
As she was reintroduced to her Aboriginal family, she discovered that they all shared the love of music.
"Our first language was music and we came together through the power of music. It was the language we could speak when the worlds that we came from were just so different," she says.
"For me it was a point of connection, it was a common language that we spoke. For all the differences in my life being brought up outside of community, all of that could be swept aside because we had this common language."
As Deborah discovered where she came from gave her more of a sense of where she was going. Tracing her ancestry to the Cummeragunja Reserve inspired her to write Pecan Summer – the first opera written by an Indigenous Australian and involving an Indigenous cast.
It is based on the February 1939 Cummeragunja walk-off. When Deborah was researching and writing the opera, she discovered her grandparents were a part of the walk-off. For Deborah, Pecan Summer is a pinnacle in her career and life.
"To see a dream come to fruition on stage was incredible. I wasn't just on stage by myself, it was a whole company of classically trained Aboriginal singers on stage with me telling an Aboriginal story that's so important, not only to the Yorta Yorta people but for all Australians," she says.
"As far as defining moments go in your life, I'd have to say it was that first performance."
After the success of the opera she decided to open The Short Black Opera Company to discover talented Indigenous singers who wanted a career in classical vocal music, and help them develop the skills and knowledge they needed to begin a career, along with professional performance opportunities.
"We've worked very hard in our company to make sure that we continue to develop the young artists that we have found. I didn't think that Opera would be so foreign to Indigenous people because we have been singing our stories for tens of thousands of years. All of our knowledge has been passed on through the arts," she says.
"There were no role models on stage and that's what has really driven me now to change that experience for Aboriginal singers who might have the talent to become a classical singer. I wanted them to have plenty of role models on stage. I didn't want my legacy to be the fact that I was the only Aboriginal Opera singer."
She reflects on the importance of recognising the thousands of years of practising traditional arts written into the DNA of young Aboriginals and Torres Strait Islanders when it comes to education.
"Genetically they have a thousand generations of ancestral knowledge to draw on – how is that knowledge being drawn on? Is it being valued at all?" she says.
"It's embedded in the way that we learn and when you devalue the arts as a means of studying, then you create a disadvantage for Aboriginal people. We should be looking at the potential that lies in each Aboriginal kid whether it be with a paintbrush, instrument or dancing and singing."
But for Deborah that first performance of Pecan Summer will remain special.
"I've toured overseas and it's a thrill every single time but nothing will ever match the first performance of Pecan Summer," she says.