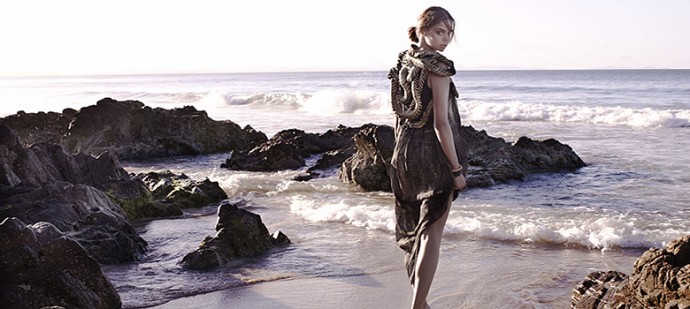 Australian Indigenous Fashion Week (AIFW) is coming up fast – next Friday to be exact, and the staff of Deadly Vibe will be proudly supplying you with coverage throughout the day.
The AIFW team is busy setting up the venue, which has been announced as the historic Town Hall in Sydney's centre.
Set to become an annual fixture on the Australian Fashion calendar, the AIFW will feature a diverse range of traditional and contemporary designs from emerging designers and already established industry names.
"AIFW is the first event of its kind, bringing together Aboriginal and Torres Strait Islander communities, designers and talent under one roof, our aim is to foster Indigenous economic advancement, while nurturing and developing talent through the Indigenous Model Competition," says Director of AIFW, Krystal Perkins.
The event is expected to be a visual feast of wearable fashion and accessories, textiles and fabrics, as well as a selection of art, furniture and homeware designs.
Last week the official schedule was announced, kicking off at 9.30am with an AIFW Opening Address by Krystal Perkins, followed by a welcome to country by traditional custodians, the Madden family.
From 9.50am onwards, there will be a Design Forum with discussion topics ranging from the Business of Indigenous Fashion, Ethical and Sustainable Fashion, Creative Collaborations, Design Innovation and the Future, and the Fashion and Selling Channel, followed by an interactive Q&A session.
Panellists presenting at the Design Forum are an eclectic group of leading Australian talent. They include: Sarah-Jane Clarke, co-founder, Sass & Bide; Patty Huntington, WWD journalist; David Bush, DB Consulting; Alison Page, designer; Stephen Carter, Jets Digital; Jarrad Clark, Vice President and Global Creative Director, IMG Fashion; Stan Grant, journalist, on behalf of NITV; Robyn Weinberg, Director Community, Luxottica Retail Australia; and Sue Morphet, Chairman of Manufacturing Australia.
Earlier in the year, AIFW held a national 'scout' for models to be featured on the runway. Models were chosen by Chic Model Management, Samantha Harris and other industry professionals.
"I'm so excited to be working with AIFW as their ambassador and judge of the Indigenous Model Search Competition; this is something that would never have happened in my mother's time." Samantha Harris said at the time.
"It really does feel like we're making a little bit of history."
Follow Deadly Vibe on Twitter, Facebook or check back next week for our live feed on our website.
Photo courtesy of Prue Roscoe