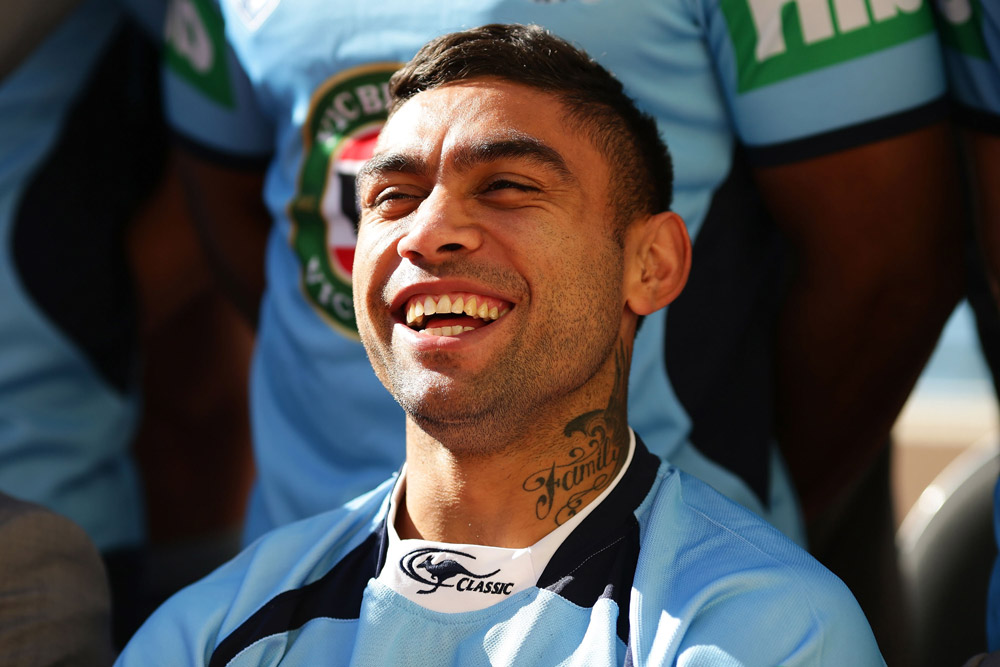 Well it's finally happened. Nathan Merritt has been selected to play State of Origin football.
It's been a long time coming for the man who's been among the NRL's leading try scorers throughout the majority of his NRL career with South Sydney, and yet until now has never managed to get a look in at Origin level.
"I smiled that hard," Nathan told reporters, speaking about his reaction to news of his selection. "As I walked out of training, my old man was walking in. I embraced him. My father was the first to know, and so was my fiancé."
"It doesn't matter what way it (the Origin opportunity) is, I'm just grateful for the chance to represent my state and play for the Blues."
Merritt comes into the side to replace the man whom I consider to have been the form centre of the competition in 2013, Blake Ferguson. Blake has been dumped from the Blues team and had his NRL contract deregistered following a well publicised incident at a Cronulla nightclub. Now, instead of playing in his second Origin match, Blake will be in court facing charges. It is a massive disappointment for a young man whose NRL career was really taking off.
In Merritt, Laurie Daley has picked a solid, experienced footballer, but after their confidence building win in Game 1, NSW would have loved to have come into Game 2 with an unchanged backline. Jarred Hayne (who is out injured) and Ferguson brought plenty of size and power to the Blues backline. We will have to wait until Wednesday to see how disruptive the incident has been to the Blues' preparation, and how the new look backline will fare.
Having said that, I'm confident Merritt will prove his worth at Origin level and I can't wait to see how he goes on the night; and what a game to make his debut in, one being hyped as perhaps the biggest Origin game ever.
With the Queenslanders stung from their Game 1 defeat and now playing at home, Nathan is set to experience an Origin baptism of fire in Brisbane, and the Maroons have indicated they will be applying plenty of pressure on the debutant. Talking to the Courier Mail, Nathan's Rabbitohs' teammate, Greg Inglis, said: "I am glad that he got picked but at the end of the day he is playing for the other side and we have to exploit that." Greg compared his performance in Game 1 to that of a "headless chook" and has spoken about his intention to get much more involved in Game 2. Personally, I believe Greg needs to play fullback or at least alternate with Slater in order to get his hands on the ball more often.
What should also be alarming for the Blues coming into this match is the news that Johnathan Thurston is back to full fitness and, if his game against the Dragons last weekend is anything to go by, he is well and truly getting back to his best form. I wouldn't be at all surprised to see JT come out and dominate this game.
Queensland have made changes to their pack for Game 2, adding some young blood to the team in the likes of Daley Cherry-Evens and Josh Papalii on the bench, and dropping Ashley Harrison and David Shillington. Considering the disruption to the Blues team in the lead-up to this match, Queensland playing at home and needing to make amends for their lackluster Game 1 performance, I'm tipping the Maroons to win Game 2 and set up a thrilling Game 3 decider in Sydney.