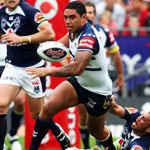 North Queensland centre Willie Tonga has become the hot favorite to replace the injured Justin Hodges for game two o the State of Origin series.
Tonga last played for the Maroon in the 2007 series before injury kept him off the paddock for long stretches of the 2008 season.
Tonga has been in fine form this season and teammate Johnathan Thurston believes the noted try scorer would be a perfect fit for the already potent Queensland backline, despite the fact Tonga is left side centre and would be replacing Hodges who is a right side centre.
"If you look at the centres that we've played against and that he has marked, they've all been kept very quiet," said Thurston.
"He's a great defensive centre and his attack is up there as well. I'm sure he wouldn't have a problem switching from the left to right or you could probably switch GI (Greg Inglis) to the right and leave him at left.
"I think he's right up there in the mix."
Another player on the brink of making a stunning comeback to rep football is Dragons winger Wendell Sailor, who last played State of Origin in 2001.
"I'm sure he has been ringing the selectors," said Thurston referring to Sailors chances of earning a Maroon call up.
"He has been playing really well, starts their sets very well from the back."