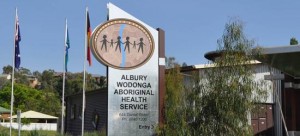 The Albury Wodonga Aboriginal Health Service (AWAHS) is a non-profit organisation that was set up to cater for the health-care needs of Aboriginal and Torres Strait Islander people and their families. They are passionate about delivering innovative programs for people of all ages.
Albury and Wodonga are thriving border-cities on the banks of the majestic Murray River. The area has a population of about 85,000, of which 2 per cent (1815) are Aboriginal or Torres Strait Islander people.
The Aboriginal community of Albury Wodonga is made up of more than 50 different language groups. The Albury Wodonga area has been a designated Aboriginal resettlement area since the late 1960s. Since then, the local Aboriginal community had lobbied various governments for the establishment of a community-owned Aboriginal Health Service. In August 2009, the AWAHS officially opened its new building in Glenroy.
The AWAHS has a skilled and experienced medical team of general practitioners to cover all aspects of clinical care, including child and adolescent health, adult physical and mental health (encompassing acute and chronic illness and illness prevention), acute health care, orthopaedics and minor surgery, and antenatal care in partnership with the Albury Wodonga Health Obstetrics Unit.
The Nursing team at AWAHS supports the medical team and offers a wide range of services for the community, such as child and adult health checks, triage, chronic condition management, a quit-smoking program, immunisations, women's health, midwifery, diabetes support and education, wound care and home visits.
Health Promotions officer at AWAHS, Selina Clark says it is a busy health service, with more than 4000 clients on its books.
She says chronic diseases, such as diabetes, are prevalent in the area, but the service is well set-up to cater for these diseases, as well as cultural issues specific to the area.
"Our service offers specialty services in chronic-disease management, including a chronic disease nurse, support worker, diabetes educator, podiatrist and dietician. We also have a Social and Emotional Wellbeing team that offers counselling services in Alcohol and other drugs, Mental Health and for the Stolen Generations," Selina says.
She says the AWAHS also runs innovative programs for families and young people.
"We ran a 'Bran Nue Me – Better Your Health and Fitness' pilot program in July 2010. We had seven participants, who completed a six-month exercise program, with funding by Wagga ICC [Wagga Wagga Indigenous Coordination Centre]. From this pilot program, we partnered up with Mungabareena Aboriginal Corporation and ran a six-week exercise program with the Hume Health and Fitness centre and Wodonga Sports and Leisure Centre. This program was funded by the Indigenous Sport and Recreation Program and coincided with the 'Keep Healthy Keep Moving' project at Mungabareena Aboriginal Corporation.
"Participants in the program had to complete a contract with their doctor that also stated their commitment to the program and attend three sessions per week or 18 sessions for the six-week program. The program was flexible and offered gym and pool memberships, cooking sessions and referrals to allied health services, including a dietician, diabetes educator and quit-smoking classes. It catered for the whole family. The program finished in July 2012 and had over 100 participants," she says.
Another program 'Sista Galz – A Young Woman's Journey' ran from 2008 to 2010.
"It was aimed at young Aboriginal girls in the community, aged from 13–18 years, who were at school and doing well. This offered an incentive for their good work and achievements. The program ran two camps to Nowra, two community pamper days and a leadership program. It offered cultural, sexual health, social and emotional wellbeing information, as well as visiting a variety of sites, including Bomaderry Children's Home, Wreck Bay Mission, Fitzroy Falls and Booderee National Park. Activities included snorkelling and a whale-watching cruise," she says.
For more information, contact the AWAHS on (02) 6040 1200, head down to 644 Daniel St, Glenroy, or check out their website at www.awahs.com.au