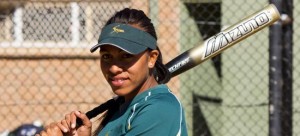 Softballer Vanessa Stokes , 25, has been named the 2012 Marion Sports and Community Club Sportsperson of the Year.
Vanessa is the first Aboriginal pitcher for the Australian softball team, and the ninth Indigenous woman to represent Australia.
She previously played for the Port Adelaide Softball Club before joining the Glenelg Rebels where she has won a premiership and been named the competition's team of the year pitcher, as well as becoming a member of the 2011–12 SA Starz and the 2012 Australian women's team.