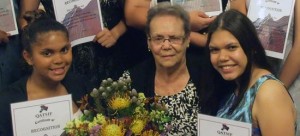 In her 83 years of life, Aunty Ruth Hegarty has seen a lot of change. Growing up on the Cherbourg mission not far from Brisbane, Ruth and other young Indigenous people of the time weren't given the opportunity to receive a proper education. Most only received basic teaching in reading and writing before being groomed as domestic or livestock workers. Ruth, and those of her generation had to work very hard for everything they achieved in life.
In spite of the hardships, Ruth went on to educate herself and become an author, a stolen-wages activist and a university lecturer. Today, she is a grandmother, great-great grandmother and great-great-great grandmother to over 130 progeny!
Recently, Aunty Ruth addressed a group of Indigenous students in Murgon, Qld, who were receiving QATSIF (Qld Aboriginal and Torres Strait Islander Foundation) scholarships, where she encouraged them, and all young Indigenous people, to make the most of the education opportunities available to them today – opportunities that she and her generation never had.
"I'm sure all of us older generations would've loved to have had the opportunity of a higher education," said Aunty Ruth. "We were cheap labour; very cheap labour. After witnessing your graduation, I'm reminded of my generation's loss and the basic human rights we did not have.
"You can do anything you want," she added.
"You don't have to be a doctor, but there are things you can do and you need to do it. We are a nation of people who believe in Dreaming. Don't let anybody tell you any different. You're responsible for passing on that Dreaming. If you don't, we're a generation lost."
Aunty Ruth said education gave people the power to fight for their own rights and make their dreams come true. The QATSIF scholarships presented to students are a legacy of her fight to get the stolen wages back so that "future generations will have a smarter, brighter future".
QATSIF Scholarships were established with the bank interest earned on Stolen Wages held by the Queensland Government.
"Knowledge is power," Aunty Ruth said. "Don't you ever forget that and I give it to you tonight as a gift."