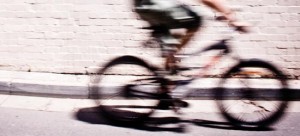 They say you never forget how to ride a bike. That may be true, but if you haven't ridden one for a while don't expect it to be easy. It can be a recipe for disaster – or injury, as this writer found out…
I used to ride to work every day when I last lived in Canberra. That city has some great cycle paths, but that was about 10 years ago. Recently, I went back there and thought it would be fun to hire a bike and ride along those old bike routes.
I got my bike and the bloke gave me a safety talk. "Yeah, yeah," I thought and rolled my eyes. I jumped on and I was off. I rode halfway around Lake Burley Griffin.
My legs were starting to feel it, but it was great fun to be on that bicycle after so many years – feeling the wind sail past me and leaning into the bends. I swept and swayed around those cycle paths like a man possessed. I loved it and felt like I was a kid all over again.
Coming a cropper
Suddenly, as I came around a corner, there was an obstacle on the path in front of me. I didn't have time to think and instead of pulling on the back brake, I hit the front brake! The back of the bike lifted up and threw me off – like a horse. I went sailing over the handlebars and into a ditch.
I landed on my left arm, which I had stuck out to try and break my fall. In doing so, I sprained a finger and my wrist. But it could have been much worse: I could have broken something. I got up and shook myself off, feeling a bit embarrassed. But there was a bigger lesson in this, which applies to all exercise when you are getting back into it: take it gradually.
Cycling for exercise
If you're keen to take up exercise again after a long time, cycling can be one of the most enjoyable and practical options. Running can be a bit hard on the joints, but cycling is also a real alternative to the hassle, expense, and pressure of joining a gym.
Cycling offers all the benefits of regular exercise. It increases aerobic fitness, reduces the risk of cardiovascular disease and lowers cholesterol. It also helps tone up calves, thighs and hips, and it can burn off up to 700 calories per hour.
Fitness check
First up, check your fitness levels. If you haven't exercised in a long time, maybe visit your GP at your local AMS and get a health check. They may also advise you about safe levels of exercising.
Many people say that traffic is their biggest turn-off when it comes to cycling. But one way to stay safe is to get creative about your route. Remember, you and your bike can go many places that a car can't. If you're not used to cycling in traffic, it's a good idea to avoid busier roads when you start, especially if they don't have cycle lanes.
Try cycling in a medium gear (one revolution of the pedals per second). This should be ideal for getting where you are going without too much effort. Once you're comfortable with that you'll find your ideal level. As you get fitter and your body gets more toned you will probably look to increase the resistance level and move up the gears.
All you basically need is a helmet and a bicycle with a comfortable seat that allows you to sit in a reasonably upright position. Any bike that has accessible gears and brakes on flat bars is great – and the simpler the better.
If you are pulling an old bike out of the shed, take it to a bike shop for a safety overhaul first. It's better to be safe than sorry. It should also be comfortable and have mudguards and a chainguard to protect you from the weather. You also need lights if you are cycling in the dark.
Then – go for it. One of the great things about cycling is you can take it at a pace to suit you.
Do your bit for the environment
Choosing a bike over a car lets you feel good because you are doing your bit for a cleaner environment. Not only is cycling an easy way to save on travel time, stay fit and help the environment, but it also saves you money.
Get into a routine
Once you get the hang of it, include cycling in your daily routine. Try riding to the rail station or bus stop that has cycle parking nearby. Ride to the local shops with a basket or backpack – you won't have any of the stress of parking the car. Riding to parks or sports facilities is also a great idea and you get some fresh air and exercise along the way. When riding to visit friends you don't need to worry about getting a taxi or a lift home. Just bear in mind that you can be arrested for drink-driving on a bicycle, just like a car.
In summary, remember to ride in a confident, predictable manner and always be respectful towards other road users, including pedestrians. Know your rights and your responsibilities, but if in doubt, don't take a chance – a cyclist will always come off worse in an accident with a car!