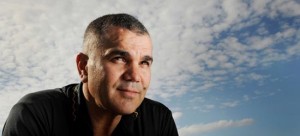 He's still in his forties, and you might think he's too young to be publishing his memoirs. You'd be wrong. Chris Sarra, educator, Indigenous activist and NRL commissioner, has just had good morning, Mr Sarra published. I's a great read, a compelling and inspiring tale, not just on account of his own stellar achievements, but ALSO for all his work in empowering so many others.
Dr Sarra grew up in East Bundaberg, near the rum distillery, the youngest of 10 children of his Italian dad and Aboriginal mum. His Dad emigrated from Italy in the 1950s and worked on the Queensland cane fields before getting a job with the Bundaberg City Council. His mum is from the Goona Goona people north of Bundaberg. Neither of his parents had much formal education, but Dr Sarra says they were crucial to his success.
"The thing is they never had access to education but like a lot of good parents they knew that that was our ticket to a better future. I hope the book honours their contribution to my life because they were really a significant part of everything I did and the way they shaped my thinking, and I'm always mindful of them in terms of how my attitudes and behaviours were shaped," says Chris.
After finishing high school, Chris moved to Brisbane, where he became the first graduate of a program at the Brisbane College of Advanced Education designed to create more Aboriginal and Torres Strait Islander teachers. Several postings in schools, in the academy and in bureaucratic positions followed, but the turning point of his career came in 1998 when he accepted a job offer to become the Principal at Cherbourg State School. It was there that he came to devise and apply his Stronger Smarter philosophy of education.
"Strong is keeping faith in our sense of our cultural identity, despite being told by many others that our culture and sense of identity is a problem and that we somehow have to let go of it to be a part of modern society," he says, "I think that we have to cling to it and understand it and hold it to our core so that we can be the best that we can be in a modern society rather than feeling pressure to become assimilated.
"Smart is being smart enough so we can mix it in any modern society in any part of the world and enjoy the best of what any modern society has to offer.
"In combination it means a range of things, like being strong and smart enough to make the right choices in life about drugs and alcohol, about whether you're influenced by peer pressure or not. It's being strong enough to reflect on our unfortunate history but not let yourself be defined by that, rather in a strange way be inspired by that and understand it so we can transcend that."
Under Dr Sarra's Stronger Smarter philosophy, the results at Cherbourg improved dramatically. A 2002 Queensland Education Department Review of the School found that the net percentage of Year 2 students not requiring additional support in reading and writing increased from 6.7 per cent in 1997 to 57.1 per cent in 2002, an increase of 50.4 per cent. In maths, it went from 20 per cent (1997) to 53.6 per cent (2002), an increase of 33.6 per cent. And there was an improvement in regular attendance from 50 per cent in 1997 to 95 per cent in 2002. For Sarra, this was the proof that it wasn't the students but the attitude towards them, what he calls "the collusion of low expectations" that was the main reason for the poor education outcomes for so many Aboriginal students.
In his six years at Cherbourg, Chris says the highlight was definitely the people. "Whether it's the elders who came in and got around me right from the start, and also the kids; when they were offered the challenge they rose to the challenge and they created the ripple that changed the tide of low expectations around the country.  It's hard not to feel emotional about it."
Since his years at Cherbourg, Chris has founded the Stronger Smarter Institute at the Queensland University of Technology, which is spreading his philosophy. His advice to Aboriginal parents to ensure their kids get a fair go at getting a decent education is that: "it's a matter of maintaining the belief that we have a human right to a good quality education as much as any other child and sometimes we have to assert that right in the face of low expectations of our children in schools. And so we've got to be on guard and make sure that we've got high expectations of our children and we've got to make sure that teachers and principals have high expectations of our children as well."
For his work at Cherbourg and in education, Dr Sarra was awarded Queenslander of the Year in 2004.  Perhaps the most recent of his many accolades is his 2012 appointment as a Commissioner for the NRL. As a former player, Rugby League is close to his heart, but Dr Sarra also finds in the code an excellent analogy for his Stronger Smarter philosophy.
"Rugby League is important to everybody's lives," said Dr Sarra. Even if you talk to the greater spirits, they'll tell you that. There's no other code like rugby league and I loved growing up, playing the game, but I'm at a point now where I love even more what it does and what it can do for Indigenous communities. It symbolises perfectly what Australian society should aspire to. A level playing field in which indigenous excellence is acknowledged, embraced and honoured,."