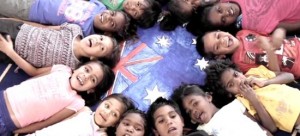 Over 30,000 school students got involved in this year's Generation One Creative Change competition. now in its third year, the competition has been a big hit with students and schools with $15,000 prize money up for the winning entries. To enter, students performed two songs and recorded them.
In the primary division, students were asked to create their own version of the GenerationOne theme song, "Hands Across Australia'". In the secondary division, they were asked to do their own version of the Warumpi Band's 1980's hit "Blackfella/Whitefella".
Judging all the video entries this year were Casey Donovan, GenerationOne spokesperson Jeremy Donovan and Iconic Australian actor Jack Thompson, who named Yandeyarra Remote School in Western Australia as winners of the primary division.
''The work that the school and community put into the entry from Yandeyarra is deadly. They really believe in what they are singing about: working together for a better future for all Australians,'' said Jeremy.
The Yandeyarra video featured footage of the local landscape, as well as students working together on their performance.
Centralian Senior College in Alice Springs was named winner of the secondary division. They amazed the judges with their performance inspired by the song "Blackfella/Whitefella". In their video, the college spread the messages of unity, a healthy lifestyle and employment and featured their community's elders. In both winning communities, English is largely a second language.
"I really enjoyed watching the kids have fun, getting involved and not being afraid to get on the camera, and watching them spread the message was deadly',' said Casey.
The Founders' Choice prize went to Nambour State School in Queensland. For their video, students learnt a traditional dance and attached a camera to a mini helicopter to give a bird's eye view of the whole school, who were gathered in the shape of a map of Australia on their cricket pitch.
And Walgett Community College was commended by CEO Warren Mundine for writing their own lyrics: ''Time right now to stand up and be counted, Blackfella, Whitefella, going to get it together to do better''. Their video was inspired by the Freedom Ride, which travelled through their town.
''When I heard the lyrics 'no education, no job, no hope… anyone can talk the talk, takes courage to walk the walk', I had to award those students with the CEO commendation',' said Mr Mundine. ''At GenerationOne we want all our kids to be taking up their educational opportunities and we want all of them to have a chance at a career. This group of kids from Walgett are saying this to their own community and that in itself is fantastic.''
Another award was the People's Choice Award, which was taken out by Tallowood, a special-needs school in Kellyville, NSW. A total of 13,000 people voted for their entry. This school caters to students with a moderate to severe intellectual disability. Bush TV also presented an award to Natalia Brunovs for best 'Bush TV creative' for her work with the children in Western Australia.
''The greatest part of watching the clips back is knowing that kids and teachers are going home and having conversations about this project. The songs are breaking down the barriers. That's our aim, to give kids the opportunity to have conversations that haven't been happening,'' said Casey.