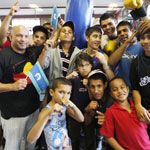 Deadly Vibe Issue 132 – February 2008
A former boxer takes on a new role to help our young fellas.
STORY: After a lifetime spent in and around the boxing ring, former fighter turned trainer and manager Alex Wymarra has just won the most important title of his career after being named Boxing NSW's new Indigenous Boxing Coordinator.
Alex is now preparing to be a very busy man as he hops between Indigenous communities and boxing gyms across the state. As Indigenous Coordinator, it's hoped Alex can help tap into and nurture the great wealth of boxing talent that exists in our Indigenous communities.
Among a range of responsibilities, one of the most important for Alex will be ensuring that young Indigenous boxers are managed properly, supported and given every chance to succeed – both in and out of the ring.
"You get a lot of boys coming in from out on the mission," Alex explains. "They come to Sydney and they get mismatched and then their confidence is shattered, so they just go back home. They don't want to box anymore, and sometimes they make bad choices and head down the wrong path.
"I want to change that. I particularly think it's good to have an Indigenous person in there to keep an eye on our mob."
Alex's first major project is the establishment of five Indigenous boxing academies in metropolitan Sydney – a project he has been working on for the past 18 months. The aim behind the academies is to lure young Indigenous people off the streets and into the gym. Here they can be mentored by a support system of trainers and fellow boxers while the sport itself instils pride, discipline and confidence in its own unique way.
"We want to get some of our boys coming out of the juvenile justice system and get them into the programs and help them to get their heads straight," Alex says. "It's not all about turning them into champion boxers; it's about guiding them and helping them back into the workforce or back into school or TAFE."
Having come from a similar background to those young men the program has been established to help, Alex hopes the academies will provide others with the same opportunities and lessons in life that boxing provided him.
"I'm one of those kids from the streets," he says. "I'm one of those kids that have been in trouble. Unfortunately a lot of our mob do it tough growing up and so for me it's very rewarding to be able to give something back through boxing.
"I think this program can really make some improvements in a lot of communities. It can give these young fellas a more positive attitude about life."
Currently there are five academies being planned for Sydney, with centres at Redfern, Woolloomooloo, Mt Druitt, Campbelltown and La Perouse – all communities with large Indigenous populations. Once these Sydney academies have been established, Alex is then planning on extending the program to regional areas on both the north and south coast of NSW as well as inner-western areas such as Dubbo and Wellington.
"Some people go to church," says Alex. "Well, going to the gym was like a religion to me. I know that it helped me a lot, because boxing is all about confidence, and that rapport between a boxer and his trainer is unlike anything else in any other sport.
"It's not for everybody, but I think we've got fighting blood and a lot of competitiveness in us – we've certainly had a lot of Indigenous champions who made something of themselves through boxing in the past.
"What boxing can give to you as far as discipline, humbleness and confidence is better than any championship belt going around your waist."
For more information about the NSW Indigenous boxing academies and how you can get involved, contact Alex Wymarra at [email protected]