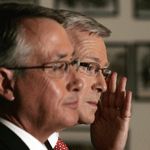 The Australian Government is investing $334.8 million towards closing the life expectancy gap between Indigenous and non-Indigenous Australians within a generation.
Measures include $101.5 million extra funding for maternal and child health services. By addressing health issues early in life, these interventions can deliver significant progress in closing the gap. These initiatives include:
an additional $90.3 million, as well as matched funding of $75 million from State and Territory governments, to improve child and maternal health services; and
$11.2 million to tackle acute rheumatic fever and rheumatic heart disease among Indigenous children. Rates of acute rheumatic fever in some Indigenous communities are among the highest in the world.
Alcohol, tobacco and substance abuse are major issues of concern among some Indigenous communities, which a number of initiatives address:
a commitment of $49.3 million over four years, through the Council of Australian Governments (COAG), to improve access to drug and alcohol services, including residential treatment and rehabilitation facilities. This measure doubles the 2006 COAG commitment for expanded drug and alcohol treatment and rehabilitation services; and
a $14.5 million investment over four years in the Indigenous Tobacco Control Initiative, to help tackle high rates of smoking in Indigenous communities.

An essential step towards improving the health of Indigenous Australians is ensuring appropriate health services and the right health workforce are available. These issues will be addressed through measures including:
a $21.5 million commitment over five years to improve the capacity of Northern Territory health services to meet the complex health needs of Aboriginal and Torres Strait Islander communities, including access to renal dialysis services for people in remote communities, and access to Sexual Assault Referral Centre mobile outreach services and counselling; and
an investment of $19 million over three years in a National Indigenous Health Workforce Training Plan. Supporting a strong Indigenous health workforce and encouraging more Indigenous people to take up careers as health professionals is critical to improving health services and increasing Indigenous peoples' life expectancy.

In addition, the Government has committed $99.7 million to expand primary health care in the Northern Territory, including establishing a remote area health corps agency to recruit more doctors, nurses and other health professionals to work in remote Indigenous communities.

The Government is also committing an additional $13.6 million to complete the delivery of follow-up dental, hearing and ear, nose and throat services for Aboriginal children in remote communities and town camps in the Northern Territory in 2008-09. This brings the total Australian Government commitment for health initiatives under the Northern Territory Emergency Response to $196.2 million over three years.

Under this measure, Aboriginal people in the Northern Territory will have continued access to drug and alcohol treatment, rehabilitation and outreach services, and continued services for children and communities affected by child abuse and trauma.

The Government will also enable 1,000 Aboriginal and Torres Strait Islander Stolen Generations members to be reunited with their families under a $15.7 million, four-year Government initiative. This measure will enable members of the Stolen Generations to reunite with their families through Link Up services, and will fund an extra 20 Bringing Them Home counsellors.