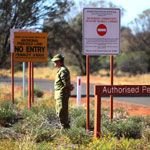 The first anniversary of the Northern Territory intervention has been marked by protest in nine Australian cities.
Among the protests was a call for the Federal Government to invest $1 billion to help fix problems in Aboriginal communities, and for a new national Aboriginal advisory body to be established.
In Canberra, representatives from the Aboriginal Tent Embassy, the Working Group for Aboriginal Rights, and Australians for Native Title and Reconciliation spoke to about 50 people in Garema Place.
Members and supporters of Queensland's Aboriginal Community met outside Parliament House in Brisbane before starting a protest march through the city calling for an end to the intervention.
300 people also gathered at Redfern in Sydney before marching into the city while in Melbourne about 100 people rallied outside the Victorian State Library.
Speaking at an ALP conference on the Gold Coast, Prime Minister Kevin Rudd said the Government had learnt from the Northern Territory intervention, but that work still needed to be done.
"We have learnt a lot from the first year," he said. "Important progress is being made, with more police on the ground, people feeling safer, 11,000 health checks for children."
In Darwin, the Minister for Indigenous Affairs, Jenny Macklin, issued the Northern Territory Emergency Response Taskforce's Final Report to Government.
The report stated that the Government should assess which communities were viable in the longer term and "plan future investment based on those assessments".
Ms Macklin moved to reassure Aboriginal communities that no one would be forcibly removed from their homes and relocated to the larger "viable communities".
"The idea of moving anyone is way off the mark," she said.
"What's important is to make sure that children go to school and that parents have the capacity and the opportunity to get a job that's what I'll be working towards."