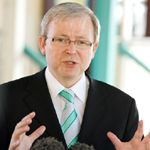 class="intro" style="MARGIN: auto 0cm">Prime Minister Kevin Rudd has promised free health checks for Indigenous people in urban areas to detect disease early, and will appoint a director-general to cut through red tape in remote areas to help close the 17-year gap in life expectancy.
In his first progress report on closing the gap since last year's apology speech, the Prime Minister said there had been progress in bringing the living standards of Indigenous people closer to those of the rest of the population.
"Some say that little has happened in the year since the apology, but that is not the case," Mr Rudd insisted. "Progress has been made."
Former Indigenous Affairs Minister Mal Brough gave the Prime Ministers "report card" an immediate fail, calling it a "sad reflection of a lost opportunity over the last 12 months."
Mr. Brough was instrumental in the former Governments Northern Territory intervention and said the Rudd Government had failed to use Howard legislation that forced states to provide details of school enrolments and cross-checks with Centrelink records to find children who were not going to school.
In a speech to parliament, Mr Rudd insisted that change was coming to Indigenous Australia.
"The task ahead is difficult, let us be clear about that," he said. "The transformation of communities and of lives will take many years, and there will be many bumps and setbacks along the road. But the alternative is to do nothing. We are determined to have a go."
Mr Rudd established a new goal to eliminate the infectious eye disease trachoma, which affects 20,000 Indigenous children.
The Prime Minister outlined plans to spend $58.3 million over four years on an extra 1000 ear and eye surgical procedures and at least 10 regional teams to treat and help prevent trachoma, as well as on hearing equipment and health awareness programs.
"Our objective must be clear: to eliminate trachoma among Indigenous Australians within a finite time frame," he said.
A position of co-ordinator general for remote Indigenous services would also be created. The co-ordinator general will have the authority to cut through red tape and will co-ordinate the efforts of community, industry and government organisations to roll out reforms in remote housing, infrastructure and employment.
Mr Rudd said progress had been made in housing with 80 house's completed or nearing completion in remote Northern Territory communities.
The Government has also negotiated four township leases in the Territory, which means more construction can begin by mid-year. An extra 65 police have been deployed to remote communities and 13,000 child health checks undertaken.
Opposition Leader Malcolm Turnbull called for more action from the Prime Minster to back up the words from his historic speech to the Stolen Generations in 2008.
"If we fail to reinforce the words of last year with actions and results and a renewed focus on Indigenous issues, then we will sadly relegate that apology to nothing more than another well-meant historical event," said Mr Turnbull.