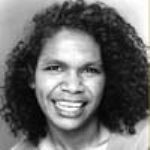 TRAINING
Aboriginal Islander Dance Theatre American Field Scholarship for study in Alaska
THEATRE
Aliwa Company B, Belvoir St Theatre Magpie Melbourne Workers Theatre Malaysia Tour 2000 Collection of songs & dances for the Black Swan Black and Tran Melbourne International Comedy Festival Solid Perth International Arts Festival & Touring Up the Road Company B, Belvoir St Theatre Corrugation Road Black Swan; Perth, Melb, Canberra, Adelaide My Spiritual Dreaming Deck Chair Theatre, Festival of Perth No Prejudice (cast member & Aboriginal adviser) No Prejudice (director) Stompen Ground Festival Bran Nue Dae National Tours, Cook Islands (South Pacific Festival)
Ningali (solo performance), written with Angela Chaplin and Robyn Archer was first produced by Deckchair Theatre (Fremantle); toured to Melbourne, regional Victoria, the National Festival of Australian Theatre in Canberra, Bonn and Berlin (Germany), regional areas in the United Kingdom, the Edinburgh Festival, Sydney Opera House, and the New Zealand Arts Festival. Return seasons in Sydney and Perth at the Sydney Opera House as part of the Festival of the Dreaming, the first of the Festivals of the Cultural Olympiad, and then the Perth Playhouse. * Green Room Award Best Actress – 1996 *
FILM
Follow the Rabbit Proof Fence Dir: Phil Noyce The Drover's Boy (lead) Dir: Chris Langman (pilot)
TELEVISION
Documentary Vis A Vis Nick Torrens Film Productions The Games ABC TV River of Dreams SBS Documentary Ningali " Artist up Front SBS Documentary Here Comes the Judge SBS Documentary narration Heartland ABC TV
MISCELLANEOUS
2001, M.C. "˜The Garden Party', Moomba festival 2000, M.C. ABC TV simulcast of indigenous music concert in Broome In 1997, Ningali compered the Survival Concert, a celebration of Indigenous Music and Dance, held at La Perouse on Australia Day.
Ningali Josie Lawford was born in 1967, at Wangkatjungka, near Fitzroy Crossing in the Kimberley region of Western Victoria. She grew up on a cattle station where her father was overseer. After her high school years in Perth, she lived in Alaska for twelve months as the recipient of an American Field Scholarship. On her return, she joined the Aboriginal Islander Dance Theatre in Sydney.
Her solo show, entitled "Ningali" was written with Angela Chaplin and Robyn Archer. Ningali brings the different worlds together. "The minorities always have to inform, enlighten, the majorities", she says. "That's difficult." In her show she sings, dances, and does stand-up comedy. Ningali is a great cultural mediator.
Ningali's totem is the snake. Her mother gave it to her, she dreamed about it when she was pregnant. The mole on Ningali's foot is exactly the place where she had hit it in her dream. "In our religion, the snake created the world", says Australian Aboriginal performer Ningali Josie Lawford. Her art and her strategy is to meld contrasts.
She lives with the mystics of her ancestors and integrates traditional dance and song into her performances. She tells stories in three languages: Walmatjarri and Wangkatjungka (her traditional language), English (which she learned when she was thirteen) and the synthesis of the two, Kreol.