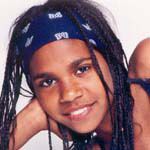 It's the stuff dreams are made of. Leading Australian filmmaker Phillip Noyce was searching for that one special lead to carry a movie he was passionate about making. He searched high. He searched low. He engaged just about every casting agent in the country, visited remote Aboriginal communities and advertised in countless newsletters.
Eventually somebody told him about a 13-year-old girl from Broome by the name of Everlyn Sampi. And as soon as he'd met her, the man who brought us Newsfront, Backroads and Patriot Games knew he was ready to shoot what has become one of the most anticipated releases of the year, Rabbit-Proof Fence.
Based on a book by Doris Pilkington Garimara and set in 1931, Rabbit-Proof Fence is the true story of three young Aboriginal girls forcibly removed from their families in order to be trained as domestic servants. Escaping the government policy of the day, the girls follow a rabbit-proof fence 1,500 miles to get back home.
Everlyn plays the oldest girl, Molly, whose job it is to protect her younger sister and cousin on the long journey.
"When I found out I was selected it didn't really bother me," says Everlyn. "But my mum was laughing and crying. This film's going to be a hit for all the oldies. They're gonna say, 'Yeah, that's what happened to me, remember? But I didn't walk, I was too frightened to walk.'"
Says Phillip: "Although this is the story of three young Indigenous Australians, I hope the audience is so involved in wanting these kids to get home, that they forget about race and identify with the plight of these three characters."
Everlyn had not done any acting before Rabbit-Proof Fence, which took a year and a half to make. Being only 11 when the filming began, she found the process rather boring.
"I didn't really enjoy making the film," she says. "I was cranky doing takes over and over again. It made me weak and I couldn't go on any more. I had my mum and my sister with me, but I missed all my cousins in Broome."
Sitting in a plush office at Fox Studios in Sydney, it's obvious that Everlyn is a natural. She's also a gifted storyteller whose smile lights up whenever she starts talking about a subject close to her heart, like boys!
"I have a boyfriend back at home. But it sucks not knowing where Keanu Reeves is, because he's around here somewhere!" she says, referring to the fact that one of her favourite actors is currently filming the sequels to The Matrix at Fox.
Looking into her beautiful big brown eyes and clocking her killer smile, it's easy to see why director Noyce thinks she has the potential to be the next Nicole Kidman. He should know – he virtually made her career when he cast her in Dead Calm.
"We are really happy with Everlyn," says a publicist from the film's production company. "She has decided she wants to go on with acting on her own, which is good."
"I like acting because you get everything and you can waste time if you want," grins Everlyn. "With work you've got to do stuff you don't want to do. I won't go to acting school though. It'll make me sick, like a plague."
Instead she is going to have a private tutor. And while she's aware that her life has changed – people are already recognising her in the street – Everlyn just can't wait to get back home to the West.
"When I get home I'll show everybody everything I've done, have a rest and then go out for a swim or something."
And for any young aspiring actors out there, Everlyn has this to say: "Stop everything and go and do an acting class, because you'll have a better life for it. Don't do anything bad and keep up with the good work, eh!"
DEADLY VIBE STARWATCH
What is your full name:
Everlyn Leemarie Sampi.
How old are you:
13 years old.
Where are you from? :
Djarindjin.
Were you born there:
No, I was born in Derby.
What do your friends call you:
Evie or Black Girl.
What was the first film you can remember seeing:
Terminator.
When did you first start acting:
September 2000, for Rabbit Proof Fence.
If you could make a movie with your choice of actors, who would they be:
Jackie Chan and Arnold Schwarzenegger.
What's the funniest thing you've ever done in front of a camera or onstage:
Acted funny and dopey.
What's your favourite Australian film:
Radiance.
Do you think computer-generated actors will ever replace real ones:
No.
Name a song that most describes who you are:
"Let Me Blow Ya Mind" – Eve featuring Gwen Stefani.
What CD do you have in your CD player at the moment:
Bow Wow.
Most fulfilling experience in your life so far:
Meeting actors and new people from the movie.
What would you most like to change about yourself:
Nothing.
Who's real deadly in your eyes:
Laurence Fishburne.
If you could have anything printed on a T-shirt that you had to wear for the rest of your life, what would it say:
Dug Life Baby!
What's your favourite footy team in either or both codes:
Eagles.
Who's your favourite footy player:
Chris Lewis.
What's your favourite part of Australia:
Broome.
You're invited to a fancy dress party. Who or what do you go as:
Me!
What animal or bird are you most like:
A snake.
You're invited to a drop-everything rehearsal and you've had no time to prepare. What do you do:
Just be myself.
Where do you see yourself in 10 years time:
In Sydney or America acting.