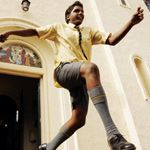 The new leading man in the long-awaited movie version of the musical Bran Nue Dae had never acted, sung or danced before being cast in the role of Willie. Now he's sharing the screen with acclaimed actors, such as Ernie Dingo, Ningali Lawford-Wolf, Deborah Mailman and Geoffrey Rush.
While most aspiring actors spend their lives auditioning and improving their skills, Rocky McKenzie had spent his life to date going to school and playing basketball and football. Strangely enough, it was his footy playing that landed him the sought-after role in the new movie directed by Rachel Perkins.
"The producer, director and choreographer came to my school wanting to meet kids from the school's football academy, which had been set up for young Aboriginal boys wanting to excel in football," says Rocky. "So I, and 20 to 30 other boys, went to the audition. I got a call-back, then after I did audition after audition, I got the role. I hadn't actually acted before and I didn't realise that I could do it."
Bran Nue Dae is Rachel Perkins' interpretation of Jimmy Chi's highly acclaimed stage show, which was Australia's first Aboriginal musical. The character Willie is based on Chi's life and tells the story of a Broome schoolboy who is torn between fulfilling his mother's wish for him to join the church and his love for local girl Rosie, played by Jessica Mauboy. Rocky says that playing the love interest of Jessica and, later in the movie, Deb Mailman, was a little daunting.
"The biggest challenge was probably working with the girls and seducing Deb because they're both a bit older than me – but it was just acting and they tried to make me feel as comfortable as possible," says Rocky.
Rocky admits that some of his friends were probably a bit jealous of his acting role when they found out who his leading ladies were.
"They actually didn't believe me at first, but then they saw the trailer and they were shocked and a little bit jealous I think," laughs Rocky.
The other challenge for the novice actor was performing in an all-singing, all-dancing role, despite not being trained in either area.
"During the filming, I did lots of singing and dancing classes, so that helped a lot and it was a great experience. Even though I hadn't done any singing or dancing before I think my sporting abilities came in handy with the dancing, so it was pretty natural for me I guess," says Rocky.
As part of his role, Rocky got to work with legendary Bangarra Dance Theatre choreographer Stephen Page, which not only helped him as a dancer but also gave him a new friend.
"He really looked after me a lot," says Rocky. "When we were shooting in Perth, I was staying in the hotel with him and he was sort of family to me. We went shopping and his son came along and now we're good mates. He's a pretty good bloke and he taught me to dance, so I was really able to step up to the plate."
Despite doing a great job as a singer and dancer, Rocky says it's the acting that has sparked his interest in continuing in this field. He credits Geoffrey Rush, Ernie Dingo and Ningali-Lawford Wolf with helping him to develop as an actor.
"I saw them as mentors and they really showed a lot of leadership," says Rocky. "I pretty much took on board whatever techniques they had and used it in my character. I just looked, learnt and interpreted how they did everything – their body language, emotions and all the variable approaches they needed to take, then I put that into my character."
Rachel Perkins says she chose the young actor in the role because she believed he had the same innocence as the character he was cast for in the film. Rocky admits that he has a lot in common with his on-screen persona.
"He's a Broome boy and I'm a Broome boy. He goes to school in Perth and I was supposed to do that, but I thought I'd get homesick like Willie does in the movie. I had a lot in common with him, so I just had to play myself, which was pretty good. I also reckon Willie is pretty cool in a way because he actually chases after his dream in the end," says Rocky.
While Rocky never had aspirations to be an actor, he is now open to that as a possibility but admits he still has other plans in place.
"I wouldn't mind doing more acting if other opportunities came up, but maybe not until after school or uni. In the meantime I'll probably just stick with basketball and football and go to uni – I want to get a teacher's degree," says Rocky.
Despite his new-found fame Rocky says that he's still the same person who auditioned for the film. The only thing that has changed is that he now understands how much work goes into making a movie.
"Before I made the movie I thought you just got a couple of actors together, a crew, a few cameras and a script and that was it. I didn't realise how long processes like pre-production, shooting and post-production take."
After making the movie, Rocky admits that school now seems easy.
"I did the filming when I was at school and we were shooting for about 10 hours a day. When I went back to school, the days went pretty quick because you're only there for about six hours!" he laughs.
Rocky says he's proud of Bran Nue Dae, but still a little nervous about what his peers will think when the movie is released in January.
"I've seen the movie three times so far," says Rocky. "I was pretty nervous before the premiere in Melbourne, but after the screening I was pretty proud. My friends and family haven't seen it yet but hopefully they'll be proud too."
Bran Nue Dae opens in cinemas from 14 January 2010. For screening details, visit www.brannuedaemovie.com.