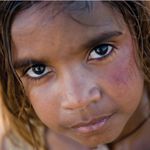 Deadly Vibe Issue 142
He's the newest face in film. Meet Brandon Walters – star of Australia.
Brandon Walters has been described by the famous Australian film director Baz Luhrmann as "our next leading man", but even a key role in a $130 million international film hasn't convinced Brandon that acting is his future.
"I would like to keep acting if possible," the 11-year-old from Broome says. "But I would also like to be a bull rider in a rodeo."
Brandon plays Nullah in Baz Luhrmann's new film Australia, starring alongside the likes of Nicole Kidman, Hugh Jackman, Jack Thompson and Brian Brown.
So impressed was Baz with Brandon's looks and natural talent that he also cast him as the "face of Australia" in a series of television ads released overseas in conjunction with the film to encourage tourists to spend their holidays "Down Under".
Before his rise to international recognition and glamorous movie premieres, Brandon was pretty much like any other Aboriginal kid in Broome. He admits he was more interested in car racing and caring for animals than watching movies, let alone acting in them!
"I was at the swimming pool with my dad and a guy asked me to audition for The Circuit (the acclaimed SBS drama about the circuit court system in the Kimberley)," he says. "A couple of months later we got a fax from Baz to go to Sydney with nine other boys for the Australia movie (audition).
"I was chosen to play the role of Nullah. I never thought of acting before that."
Before being chosen for the role, Baz flew to Broome and spent time with Brandon and his family. They took him hunting for roo and camping. It was while they were all sitting around the campfire that everyone agreed Brandon could play the role.
"In the end it was the incredible support that surrounds him in the form of his family, his school and the larger Broome community that was the final deciding factor," Baz says.
"The demands of filming are a big challenge for an 11-year-old boy with no previous acting experience. Brandon's a very capable young man with natural cinematic chemistry."
Part of Brandon's ability to cope with big challenges might be due to the fact he spent 2003 at a hospital in Perth undergoing gruelling treatment for leukemia.
Now fully recovered, he took to the movie role eagerly, working with a vocal coach on his acting and learning to ride a horse as well as keeping up with his schoolwork with an on-set tutor. He even gets to sing in the film, something many established actors would be scared to do.
"It was tiring, sometimes boring, but mostly fun," he says of the lengthy film shoot which included filming at Fox Studios in Sydney and Bowen in the Whitsundays region of Queensland.
"The acting wasn't that hard with Baz directing, but there were some long days."
In the film set in the 1940s, Brandon's character Nullah is a young boy who lives on Lady Ashley's (Nicole Kidman) cattle station in the north of Australia. When Lady Ashley's station is under threat, she and the rough-hewn Drover (Hugh Jackman) recruit homestead staff to save the property. Nullah is the crucial last team member to join.
"Nullah lost his mum and didn't know who his dad was," Brandon says of his character. "I have a very close family, so that way we are not alike, but in other ways we are similar. Nullah likes being free in the bush like me."
Freedom clearly matters a great deal to Brandon. And if acting helps him find that freedom, we're sure to be seeing more of him on the big screen, including the sort of "leading man" roles Baz Luhrmann predicts.