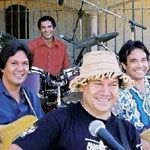 Band of Brothers
Deadly Vibe Issue 116, October 2006
Eight years after picking up their first Deadly, the Pigram Brothers were back to claim their second.
They're currently one of the biggest Indigenous bands around, and it wasn't hard to see why when the Pigram Brothers opened the 2006 Deadlys with their hit song Moonlight.
Alan, Stephen, David, Colin, Philip and Peter came all the way from Broome to perform on the night, with Gavin Pigram unable to attend due to work commitments. This band of genial brothers were rewarded for their long journey, taking home the Deadly for Album of the Year for Under the Mango Tree.
Back in 1998 the boys won their first Deadly for their debut album Saltwater Country.
"This is our third album, and it's a great honour to win another Deadly," Stephen Pigram told the audience, as he and his brothers crowded around the podium to accept the award.
"It was the first time we'd produced an album ourselves."
Colin Pigram then thanked all those who had voted for the album and dedicate d t he band's second Deadly to their mother and father.
But the accolades don't stop there. The brothers have also been nominated for their first ARIA award, in the world music category.