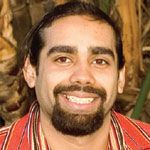 Deadly Vibe Issue 106, December 2005
Think Big
A young entrepreneur is spreading some Murri magic.
Imagine going into a supermarket and being able to find genuine bush tucker " right there on the shelf.
That's the inspiration behind one fella's big idea " Murri Magic " a nursery business that produces and sells bush tucker sauces, jams, chutneys and herb products for supermarkets.
The man behind Murri Magic is 18-year-old Eddie Currie, a Mununjali man from Yeppoon in Queensland who calls his products "fair dinkum Aussie tastes". His plan is to run a nursery that is full of bush tucker plants and an onsite food processing and bottling plant that will also give employment opportunities to other Indigenous people.
"I've got over 40,000 years of experience and knowledge behind me," Eddie says. "My Nanna taught me about my culture and things about plants " I can share this with the community.
"I want to do business with my people, set up a bottling plant with my own brand and label " Indigenous owned and operated. I have plans that mean lots of jobs and opportunities " Murri Magic everywhere. I will be actively breaking stereotypes and proving that Indigenous people are just as capable of achieving their dreams as others."
Eddie's idea was so impressive; he was named a finalist in the 2005 Nescafé Big Break competition, which has given him a $25,000 head start to make his dream a reality.
The Nescafé Big Break competition gives away cash grants to people aged between 16 and 24, who have a dream or idea and need financial support to make it happen. Over 4000 people from Australian and New Zealand entered the competition this year, with Eddie making it to the final six " an incredible achievement.
"My life has changed forever," Eddie says. "Nothing escapes the high-flying eagle, Mi-bunn, totem to the Mununjali, my heritage. That's what I feel like, a high-flying eagle.
"Imagine having $25,000 just for getting on the internet and taking a chance to share my dream? The Nescafé Big Break means I can kick off my business. I'm rapt. I can clear the block and put up a shed and shade house and start growing some plants. Next will be a range of Murri Magic bush tucker sauces, jams and chutney on the supermarket shelves, all with my own label."
Eddie hopes to be a role model to other young Indigenous people, to encourage them to chase their dreams.
"Murri Magic happens " believe me," he says. "Along with a bit of hard work!"
To check out Eddie's product range, head to www.murrimagic.com.au
Nescafé Big Break will be calling for entries for next year's competition early in 2006. So if you've got a dream that you want to turn into a reality, head to www.nescafebigbreak.com.au
(story date December 1, 2005 end)