Consisting of 11 members and fronted by one woman, Melbourne-based band Blue King Brown is a band like no other.
Their journey began in Byron Bay with the percussion duo, Natalie Pa'apa'a and Carlo Santone. They had been all over Australia and the world playing their music and moved to Melbourne in 2004 looking to expand their sound and band into something even bigger and better.
"Basically we moved to Melbourne and then we went out most nights scouting for the hottest young musicians that we could find… and we found them," says frontwoman Natalie.
"In Melbourne there's just so much talent and there was so much music happening every night at that time that it was easy. We kind of had friends who ended up having friends of friends so we did a bit of research, we were looking for hotshot players."
Their first recruit was Salvador Persico who was a percussionist like Natalie and Carlo. From there the talent grew and grew with the edition of Steve Allingham on drums, Sam Cope on keyboards, Cesar Rodrigues on guitar, Javier Fredes also on percussion and backing vocalists Lea Rumwaropen, Petra Rumwaropen, Hailey Cramer and Ngaiire.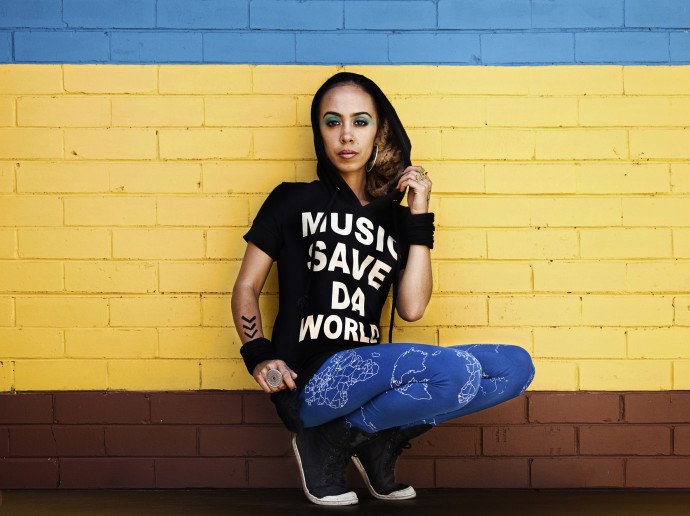 Through the mix of band members, their sound has changed significantly from their percussion days. The transformation and mixture of different Indigenous backgrounds, none of which are Australian, has resulted in a uniquely modified sound.
"When it was me and Carlo it was just drums, just percussion. It was very percussive, very rhythmic and that's what we love. We really brought a lot of that into Blue King Brown, which is why we have two percussionists and lots of drum breaks," Natalie says.
"It really influences the way we arrange our music. The way that we describe our music is urban roots and that is because we draw upon the more rootsy sounds of percussion and roots reggae, but also the urban sounds, which is more digitally generated sound."
Along with music, the band uses performance as a platform to convey important messages about human rights and other important issues involving Indigenous communities that they are passionate about in Australia and the world.
"The Positive Movement is a section on our website where we have a bunch of different organisations or campaign groups that we support. Groups that are working towards different aspects of justice, social justice, social change, environments, rights, Indigenous rights," Natalie says.
"For us, our music has always been very, very closely linked to consciousness and awareness and issues that we feel are important at this time in the history of the world. Being alive at this time is calling us to take action on certain things, and everyone has a responsibility to help in any way that they can.
"With us, through our art and through our music and the Positive Movement, is that combination of our sounds but also our philosophies."
One of the band's memorable concerts was the recent Apology Concert held in Melbourne on February 13, 2014.
"I think one of the ones that stand out of recent times was definitely the Apology concert that we did at the Sidney Myer Music Bowl… It was a great venue and great to be able to collaborate with Indigenous and non-Indigenous artists and have the performance space," Natalie says.
"That particular concert, none of us had ever performed together before, but they wanted us all singing some songs together so it was great for Blue King Brown to connect to new musicians and to have that really spontaneous and really family vibe on stage."
Photos courtesy of Blue King Brown
Blue King Brown – Rize Up
Blue King Brown – The March ft. Jah Mason
Blue King Brown – Water