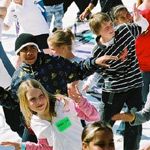 Vibe Alive in Coonamble a Smash Hit!
The very first Vibe Alive festival launched with a bang in Coonamble on Wednesday, August 21, with hundreds of young people from across NSW descending on the charming country town of Coonamble for two days of full-on excitement, fun and learning.
More than 700 students attended the festival in Coonamble, with young people from the local area taking part in the friendly competition with kids from as far away as Sydney and Kempsey.
Teams of eight representing their schools competed in singing, dancing, painting and basketball activities. There was also a festival spelling bee and interactive health and careers expos. Each component of the competition earned points for each team, with the team from each age category with the most points being named the inaugural winners of this new national youth festival.
The winner in the Junior School category was the Crawford Public School Colbys from Doonside; the winner in the Middle School category was the Colly Cuzs from Collarenebri; and the winner of the High School category was the Dubbo College Killers from Dubbo. A full list of winners is attached.
The weather turned on a beautiful display of sunshine and blue skies for the festival, with Vibe Alive crew and volunteers having almost as much fun as the kids themselves!
"It was a perfect start to the Vibe Alive Festival program," says Gavin Jones, Executive Producer of Vibe Alive. "Everyone in Coonamble is rightfully proud. New links were formed between schools, students, teachers, the local Aboriginal community and the greater Coonamble community, with everyone working together to improve the education and future prospects of our young people."
Special celebrity guests were in attendance to meet the kids and help out with competition judging, with
Former Australian Idol Casey Donovan and Vanessa and Suri from So You Think You Can Dance? joining AFI award-winning actor Luke Carroll, comedian and artist Kevin Kropinyeri and dancer Gina Reuben in encouraging the kids to work hard, stay in school and reach their full potential.
A highlight of the two day festival was the special Community Concert held on the Wednesday night, with more than 2000 people from the local area turning up to watch the best of the festival strut their stuff on stage and enjoy a spectacular fireworks display courtesy of the Vibe Alive crew.
"Vibe Alive Coonamble was a huge success," says Vibe Alive Patron Kerry Hayes. "It was the perfect platform for students to be motivated, inspired and entertained.
"We certainly found all the young participants inspiring – they were energetic, exciting, fun and full of potential."
The next event on the Vibe Alive Festival Program is Port Augusta Vibe Alive, which will be held on September 3 & 4, 2008. For more information about Vibe Alive, head to www.vibealive.com.au
WINNERS
100M DASH
Junior Boys Tui Bartlett

100M DASH
Junior Girls Tori Horan


100M DASH
Middle Boys Brandon Mohr

100M DASH
Middle Girls Taylor Stanley

100M DASH
High Boys Darren Norris

100M DASH
High Girls Latisha Carr

MAKE SOME NOISE – VOCALS
Junior
1st Bunnyong Boys
2nd Crawford Public School Colbys
3rd Coonamble Public School Mixtures

MAKE SOME NOISE VOCALS
Middle
1st Dubbo Delroy Globetrotters
2nd Dubbo Roos
3rd Colly Cuzs

MAKE SOME NOISE VOCALS
High
1st Wello Mob
2nd Players
3rd Collie Chaos

PAINT IT UP – VISUAL ARTS
Junior
1st Nyngan Tigers
2nd Crawford Public School Colbees
3rd Coonamble Public Schools Mixtures

PAINT IT UP – VISUAL ARTS
Middle
1st Nyngan High Middies
2nd Coonamble Opals

PAINT IT UP – VISUAL ARTS
High
1st Gulargambone G Girls
2nd Colly Chaos
3rd Deadly Ridge Vibes


GOT THE MOVES – DANCE
Junior
1st Nyngan Tigers
2nd Cully Kids
3rd Crawford Public School Colbees

BUZZ OFF – SPELLING BEE
Junior
1st equal Gulargambone Diamonds
St Brigid's Girls
2nd equal Nyngan Tigers
Bunnyong Bunnies
Bunnyong Boys


GOT THE MOVES – DANCE
High
1st Dubbo College Killers
2nd Wello Mob
3rd Lightening Ridge Deadly Ridge Vibes


BUZZ OFF SPELLING BEE –
High
1st equal Bumble Bees
Girri Sports Orange
G Boys

BUZZ OFF – SPELLING BEE
Middle
1st Colly Cuzs
2nd equal Rhinos
Dubbo Roos
Coonamble High Boomers

OVERALL WINNERS
Middle
1st Colly Cuzs
2nd Nyngan High
3rd Dubbo Roos

OVERALL WINNERS
Junior
1st Crawford Public School Colby's
2nd Nyngan Tigers
3rd Bunnyong Boys

OVERALL WINNERS
High
1st Dubbo College Killers
2nd Wellington Wello Mob
3rd Collarenebri Colly Chaos
COONAMBLE CUP WINNERS
Crawford Public School Colbys