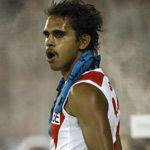 You'd think all the post match talk would have been about Sydney's first NAB Cup win in eight years when they defeated Carlton over the weekend. Instead, it was the scintillating performance from the Swans new 20 year-old Indigenous recruit, Lewis Jetta that grabbed all the headlines.
Lewis looks all set to become a new cult hero at the club thanks to his speed and attacking flair.
FACTS:
Lewis was born in Bunbury Western Australia and has 18 Uncles and Aunties!
He's already earned the nickname 'Jetstar' from Sydney fans.
At the moment, Lewis weights in at just 70 kilograms! But says he'll be working hard at adding some more bulk to his light frame.
Lewis was knocked back twice in the AFL draft before being picked up by Sydney.
He is the cousin of Melbourne and Essendon players Neville Jetta and Leroy Jetta. His idol is Nicky Winmar and he carries a photo of the AFL legend in his phone.
Lewis isn't easy to miss on the field – he wears a pair of bright green boots!
He Says:
"At this stage I'm taking it step by step each week. I have to work on a few things. My transition work, when there's turnovers, I've got to get back and also my defence. I know my offence is there."
We Say:
There's no match for speed in AFL football, and Lewis posses it in spades. Most importantly, Lewis has also displayed the ability to kick with deadly accuracy while running at top speed, and can hit goals from long distance. He'll need to hit the gym to add some muscle but other than that has all the tools to break into Sydney's first team this season.