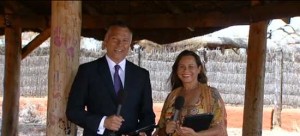 National Indigenous Television (NITV) has been broadcasting free-to-air since the historic switchover on 12 December last year. According to the broadcaster, the response to the new channel has been "overwhelming".
NITV celebrated its first broadcast by transmitting live from Uluru on the day with a special two-hour show called From the Heart of Our Nation, which was hosted by Indigenous broadcasters Stan Grant and Rhoda Roberts.
This was followed by a Living Black special, and a special edition of NITV News with Natalie Ahmat broadcasting live from Uluru and crossing to reporters around the country. The show wrapped up in a huge party at Uluru, featuring some major Indigenous talent, including Christine Anu, Casey Donovan, Troy Cassar-Daley, Dan Sultan, Archie Roach, Warren H. Williams and Frank Yamma.
NITV Channel Manager Tanya Denning says the team has been overwhelmed with the feedback since the historic switchover.
"We were quite humbled by the responses and it felt like all the hard years of work in trying to get NITV freely available to every Australian was worth it," Tanya says.
She says it was all systems go behind the scenes before the switchover.
"It wasn't easy – it has been a hard few years for us all. We celebrated. It was important for the team to look back and enjoy the moment. There is a long way ahead and we will continue growing NITV and making our community proud," she says.
The team is looking forward to bringing some great programs to viewers in the future.
"I recommend viewers switch on Barefoot Sports – we have a huge year ahead, kicking off with the All Stars game," she says.