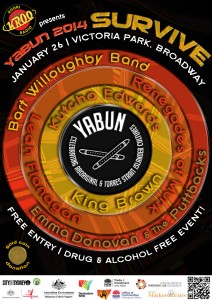 Twenty five years ago people were heading out to La Parouse, Sydney for a day of music and dance from artists across the nation – a celebration of the survival of Aboriginal and Torres Strait Islander cultures. Today this celebration is called Yabun.
Yabun means "music with a beat" in the Gadigal language and, this year, eight artists will present their music including Bart Willoughby, Emma Donovan and Leah Flanagan.
Yabun production coordinator Kieran Sator explains how he feels working on such an important Indigenous event.
"Working on the Yabun festival, there is a lot of expectations from the community, from the people that go to these festivals. We get about 25,000 people coming to Yabun across the day so there is a lot of pressure," Kieran says.
"We feel like it's a very important day for Aboriginal and Torres Strait Islander people here in Australia so, it's a real pleasure and a privilege to actually work on this."
Yabun will be held in Victoria Park, Camperdown in Sydney on Sunday 26 January, 10am till 6pm and is free to the general public. For more information visit www.kr00.com.au.
The Yabun After Party, headlined by MC Sky'High and Native Ryme, is being held at The Factory Theatre, 104 Victoria Road, Marrickville. A ticketed event for over 18s only. Doors open at 8.30pm until late. Head to www.factorytheatre.com.au for more information.