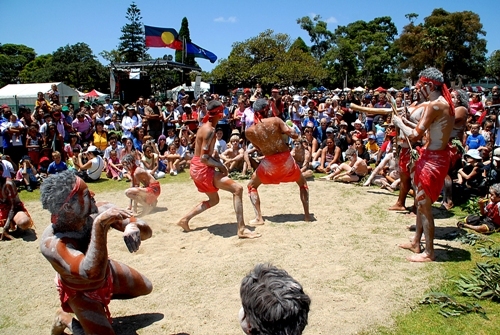 Koori Radio 93.7FM proudly invites Sydney and Australia to celebrate the survival of Aboriginal cultures at the Yabun Festival in Victoria Park on 26 January 2011.
Now in its ninth year, Yabun is Australia's premiere one-day festival of Aboriginal and Torres Strait Islander culture presenting the best in music, dance, sport and so much more.
Yabun's best ever line-up of musical talent includes legendary Wilma Reading, Casey Donovan, The Stiff Gins, Nekrofeist, The Medics, Stunna Set, Indigenous Intrudaz, Microwave Jenny, Krista Pav, Yarramundi Kids Puppets and many more.
There will be performances and workshops in Aboriginal and Torres Strait Islander dance, with the Doonooch Dancers and Urban Zenadth Kes. The energetic Youth Stage will reveal the new generation of Aboriginal dancers to watch out for in 2011.
The Kids Zone will be packed with storytelling, puppets, performances, arts and crafts. Fitkids Australia will present a program of fun activities focusing on healthy and active lifestyles for youngsters including Mini Olympics and Gladiator Boot Camp.
For art and craft lovers, there will be demonstrations and works for sale plus so much more to experience among the community and food stalls.
Culture and politics will be the focus in the Speak Out and Kulture Tents with presentations including the National Congress of Australia's First Peoples and Stop the Intervention Collective, Sydney.
Steve Miller Chairperson of Gadigal Information Service, home to Koori Radio 93.7FM, says:
"Yabun is our major annual event which presents everything that is great about Koori Radio 93.7FM. Thanks to our sponsors, it's a thank you to all our supporters and the broader community and the family atmosphere makes it a day to catch up with friends and make new ones. It's a great line up of entertainment this year and for the first time we are presenting performers from our Gadigal Music label including Stiff Gins, Nekrofeist and Stunna Set."
Tune into Koori Radio 93.7FM for the live broadcast on the day and around the country on the National Indigenous Radio Service. Follow us on Facebook at Koori Radio 93.7FM.
Yabun is a no alcohol event and admission to Victoria Park is free. Victoria Park is at the intersection of City and Parramatta Roads Camperdown, adjoining Sydney University.