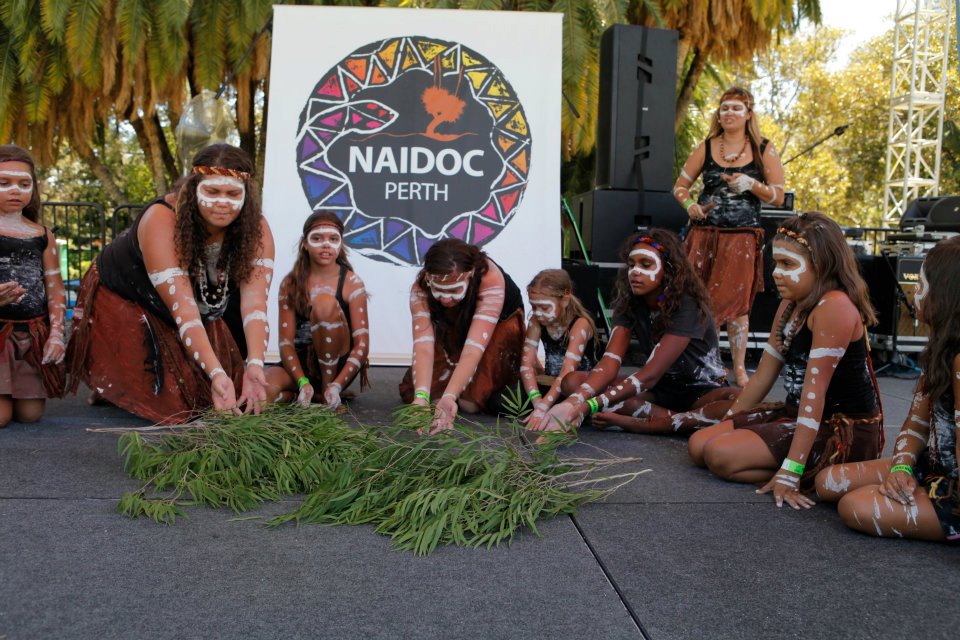 January 26 is Australia Day, a celebration for some but for others it marks the anniversary of the 1788 arrival of the First Fleet of British Ships at Sydney Cove, which led to a loss of land, culture, family and identity for Aboriginal and Torres Strait Islander people.
Below is a list of Survival Day events happening around the country that you and your family can participate in:
Survival Perth
Head to Survival Perth on Sunday, 26 January at the Supreme Court Gardens in Perth, 2–7.30pm. The event features several established and up-and-coming Aboriginal acts from WA to celebrate this year's theme: Celebrating the Songlines.
A songline, also called a dreaming track, is one of the paths across the land that mark the route followed. These paths of the songlines are recorded in traditional songs, stories, dance and painting. Artists include DJ Zeke, Oz Island, Theona Councillor, Jonathan Ford and the Balija Bouys, Elizabeth Gogos Trio, Halo Dancers, Lil Sparks and Static Crew.
For more info, visit www.naidocperth.org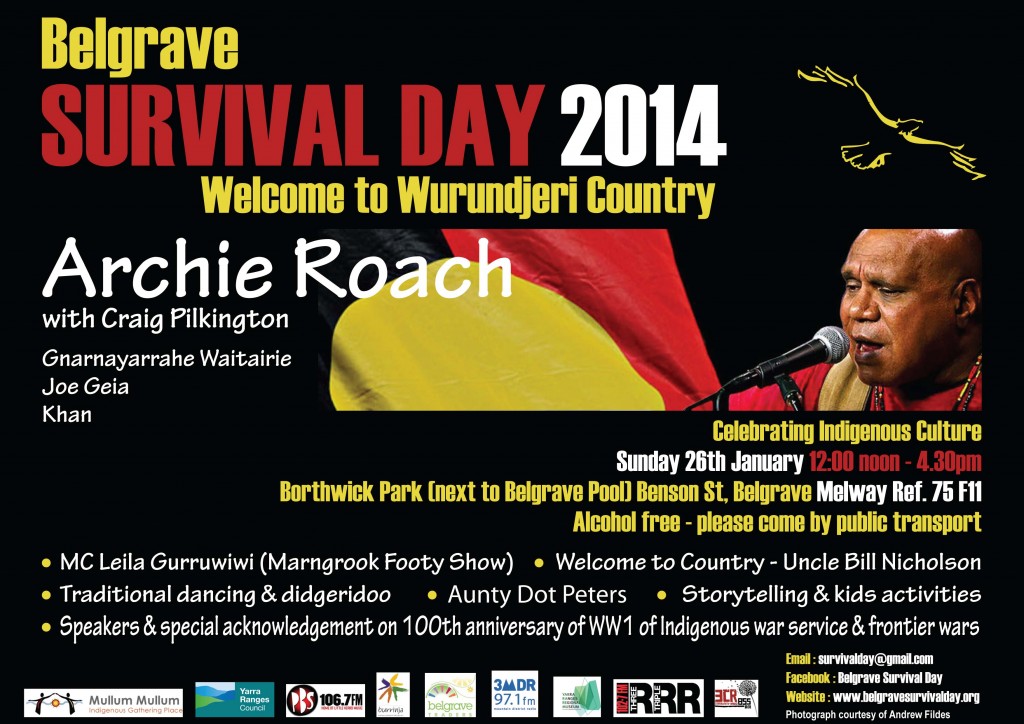 Belgrave Survival Day
A celebration of Indigenous Culture will take place at Borthwick Park, Belgrave in Melbourne on Sunday, 26 January from 12pm to 4.30pm, featuring Archie Roach with Craig Pilkington, Gnarnayarrahe Waitairie, Joe Geia and Khan. The alcohol-free event, hosted yet again by the marvellous MC Leila Gurruwiwi, will begin with a Welcome to Country by Uncle Bill Nicholson followed by traditional dancing and didgeridoo, Aunty Dot Peters, storytelling, kids' activities and speakers. There'll also be special acknowledgement on the 100th anniversary of World War I Indigenous war service, and the frontier wars.
For more information, visit belgravesurvivalday.org

Saltwater Freshwater Festival
For the third year running, the Saltwater Freshwater Festival will celebrate and share our Aboriginal living culture on the Mid North Coast with the wider community, commemorating Australia Day as a positive, inclusive, family day for all communities to enjoy.
This year promises to be one of the biggest yet with acts like Troy Cassar-Daley, Shellie Morris and Jess Beck on the main stage at the Kempsey Showground on 26 January 2014, 10–4.30pm (entry by gold coin donation). Over 12,000 people attended the inaugural Festival held in Coffs Harbour in 2010, followed by another successful festival in Port Macquarie in 2011 and Taree in 2013.
For more information, visit saltwaterfreshwaterfestival.com.au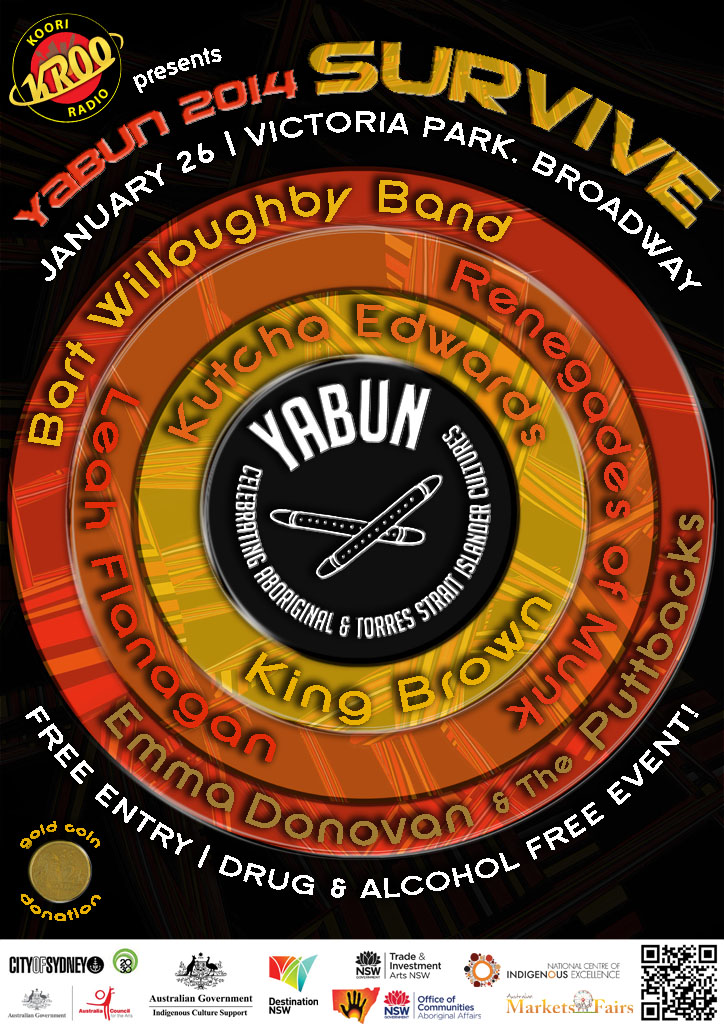 Yabun Festival
This month, Australia's largest single day Indigenous festival will see crowds of over 20,000 flock to Victoria Park, Camperdown in Sydney on Sunday, 26 January for "one of the most important Indigenous music events in the country, reflecting the wealth of Indigenous creative talent".
Some of Australia's best Aboriginal and Torres Strait Islander music from around the country will be featured including Bart Willoughby Band, Emma Donovan & The Puttbacks, Leah Flanagan, Kutcha Edwards, Renegades of Munk, King Brown, MajikHoney & a special guest performance from the Desert Pea Media All Stars. Yabun also delivers a current and informative cultural program, with discussions and speeches by some of the Aboriginal and Torres Strait Islander community's most recognised leaders, academics, politicians and artists.
The Yabun After Party will step it up a notch with powerful performances by two of the biggest names in Australian hip hop. Headlined by acclaimed MC Sky'High and hip hop pioneers Native Ryme and supported by Koori Radio's own DJ Black President the Yabun After Party promises to be explosive. Yabun After Party 2014 will be held at The Factory Theatre, 104 Victoria Rd, Marrickville on January 26th 2014.
Doors open at 8.30pm until late. Tickets can be bought online (http://www.factorytheatre.com.au/events/factory) or in person at Level 3; 27 Cope Street Redfern between 9:30am to 5pm.
For more information visit: http://kr00.com.au/