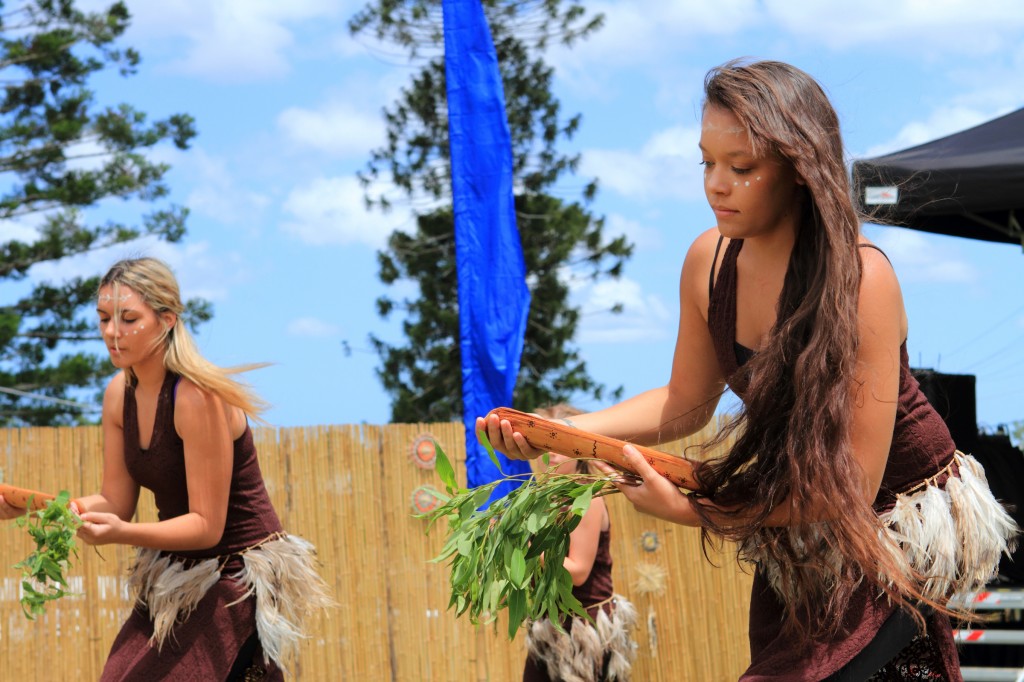 A momentous Australia Day event in regional NSW brought a community together to celebrate the world's oldest living culture. 
On a day when the Aboriginal community struggles to find its place in the national celebration, a crowd of thousands, young and old, black and white, flocked to the Saltwater Freshwater Festival in an atmosphere of shared pride and positivity.
The 2014 Saltwater Freshwater Festival in Kempsey on Dunghutti Country was a stunning day, as a crowd of over 5,000 people joined together. Fresh from Tamworth, playing to the captivated festival crowd, Troy Cassar-Daley explained why he always makes time for the Saltwater Freshwater Festival.
"This is a festival that I always do my hardest to get to; it's a great bridge builder, bringing people together to create understanding for the whole community, celebrating Australia Day in a really positive way.  Being acknowledged is something we all strive for whether we are black or white.  The Saltwater Freshwater Festival provides that opportunity," he says.
Highlights of the festival included; a very special opening ceremony with local Dunghutti Elders performing Welcome to Country in both English and the revived, Dunghutti language, which up until only the late 1960s was outlawed in NSW; a vibrant program of traditional and contemporary Aboriginal dance; a gourmet bush tucker cookery demo from ABC chef Clayton Donovan and performance by a local gum leaf band, for which the crowd went wild.
Local Dunghutti talent began the performances on the main stage action as South West Rocks band Sages Muse treated the audience to their laid-back summer sound, followed by Kempsey southern rock and country man Amos Morris, who enjoyed playing in his home town.
The soulful, folky sounds of Pirra, featuring Jess Beck, followed the heartfelt set from headline act Troy Cassar-Daley and Lismore band Supafresh brought their high-energy hip hop to wrap-up a truly dynamic musical day.
Alison Page, Executive Officer of the Saltwater Freshwater Alliance, a descendant of the Walbanga and Wadi Wadi people of the Yuin nation says:'This is the fifth year of the Saltwater Freshwater Festival.  It is such an amazing event to witness and be part of – it brings conversations, collaboration and connection between members of the Aboriginal and non Aboriginal community, which might otherwise never occur.  It truly is a tangible experience of reconciliation in our region."
Since the inaugural event in 2010 in Coffs Harbour, NSW the festival has been nomadic, travelling to different towns on the Mid North Coast.