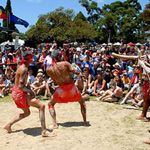 Australia's premiere one-day Festival of Aboriginal and Torres Strait Islander cultures is back bigger and better than ever at Victoria Park, Camperdown on 26 January 2010.
Presented by Gadigal Information Service, the home of Koori Radio 93.7 fm, the eighth Yabun Festival showcases the best in Indigenous talent in music, dance, sport, politics, literature, art and craft.
The day begins at 10am with the second annual Kevin Cook Lecture held in the Amnesty International Speak Out Tent where Aboriginal and Torres Strait Islander Social Justice Commissioner, Tom Calma, will give one of his last public speeches.
Art is an integral part of Aboriginal life and Yabun has something for everyone interested in Indigenous culture. If you are into music, check out the main stage with Bunna Lawrie from the legendary Aboriginal band Coloured Stone heading the line up which includes North Queensland reggae band, Zennith, and the return of Sydney's first Hip Hop crew, South West Syndicate.
There will also be plenty of dance on offer with performances and workshops in both Torres Strait and Aboriginal traditional dance, while the 'Shake and Break' dance stage will unearth Sydney's best Aboriginal contemporary dancers.
For art and craft lovers, there will be demonstrations and works for sale and you can also hear Aboriginal artists talk protocols and rights and speak on their work.
One of the most anticipated talks is 'Kooris Do It Better', with a panel of sports identities humorously looking at Aboriginal and Torres Strait Islander participation in sport. There will also be meet and greets with Aboriginal sports stars, demonstrations and giveaways.
The Kids' Zone and stage is back again in 2010 with storytelling, puppets, craft and a circus workshop and performance. You can even make your own boomerang in the Kids' Tent.
Chairperson of Gadigal Information Service, Steve Miller says "Yabun is the day that brings our community together from far and wide. It's an occasion to celebrate, share, participate and catch up with the mob. It's also an opportunity for everyone else around Australia to join us in celebrating our rich history and cultures".
Yabun is an alcohol free event and admission to Victoria Park is free, so bring your family and friends and enjoy one of the best events on 26 January.
The Yabun festival is broadcast around Australia on the National Indigenous Radio Service and streams via the Gadigal website www.gadigal.org.au