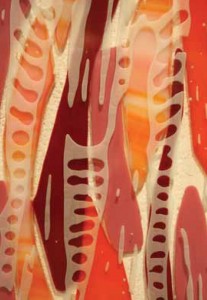 An exhibition called Weereewa: Alternative Histories presents alterative responses to Weereewa (Lake George) using mainly glass as a medium. It opens at the Goulburn Regional Art Gallery tonight. 
Weereewa:Alternate Histories is an Indigenous response to the lake by artists Jennifer Kemarre Martiniello and Lyndy Delian. It is a surround-style work recreating the Lake George escarpment and the Weereewa lake bed, using glass fish baskets, fish scoops, dilly bags, textile prints and ceremonial body painting fingerprints.
Goulburn Regional Art Gallery Director Jane Cush said Artists Jennifer Kemarre Martiniello and Lyndy Delian each draw on their Aboriginal heritage to create thought-provoking pieces for the exhibition.
"Through the exhibition, audiences can see the ways in which the ancient medium of glass is being used to present new perspectives on the natural world. At once fragile and robust, glass is perhaps the ideal material through which artists can respond to the eternal yet variable nature of Weereewa and its surrounds," Ms Cush said.
Last year, Martiniello was awarded the 30th Telstra National Aboriginal and Torres Strait Islander Art Award last year for Golden Brown Reeds Fish Trap.
"The work, like Martiniello's pieces exhibited in Weereewa: Alternative Histories, cleverly references traditional Aboriginal weaving yet is executed using time-honoured Italian glass techniques," Ms Cush said.
"The Canberra-based artist and writer began working with glass in 2008 and takes pleasure in the ability to explore the traditions of her culture through a medium not traditionally embraced by Aboriginal artists."
"Lyndy Delian, likewise combines tradition with innovation in her practice. Also based in Canberra, she draws on her Koori heritage in her art practice that includes painting, printmaking, textiles and glass.
"Motivated by the natural world and cultural survival, works featured in Weereewa: Alternative Histories, including Axe Head Midden II express these concerns which, although personal, have a collective resonance."
Weereewa: Alternative Histories opens at the Goulburn Regional Art Gallery this Friday, 31 January at 6pm and runs until 8 March.