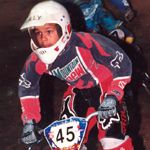 As a young fulla growing up in Nhulunbuy, William Chambers would head down to the local BMX track every Friday night to check out the competition. Watching the riders execute jumps, spins, swerves and all sorts of other manoeuvres, he'd think to himself, "Wow! I'd like to do that as well."
William finally got the chance to do just that in 1996, when he was just eight. Taking to the BMX bike like a natural, he won the Northern Territory Championships for his age group after only one year of competition.
From 1996 through to 2001 William was rated the number-one rider at the Gove BMX Club in Nhulunbuy, and is still undefeated in his various rising age groupings at that club. Between 1999 and 2001 he was the BMX champion for his state, and in 2000 he was rated number four in Australia for his age group.
Last year, at the ripe old age of 13, William and his younger brother Donald, 11, travelled to Adelaide to compete in the Australian BMX Championships. Both managed to get through to the quarterfinals in their respective age groupings, with Donald eventually gaining a credible fifth place. So how did William go?
"I fell during the race, which put paid to continuing on to the finals," he says. "I was very disappointed, but it was a great experience just being at the championships."
William attended Nhulunbuy High School in 2000, but has decided to transfer to Nudgee College in Queensland this year.
"I got a bit bored in Nhulunbuy, so my parents made some enquiries and found that Nudgee College has a reputation as being one of the best boarding schools in Queensland. It's a great school in terms of both sport and education, and there are five other boys from Gove attending there."
In addition to BMX riding, William enjoys playing basketball, cricket, touch footy, Aussie rules and rugby league. In fact he's a bit of a league legend. In 2000 he represented Gove's regional primary school rugby league team at the Northern Territory Primary School Championships.
Once there he was handpicked as a lock for the Northern Territory's primary schoolboys team. The team subsequently travelled to Rockhampton for the National Rugby League Championships, where they came second.
With a new school year to tackle – not to mention a new school – William is a little undecided about which sport to pursue.
"I would like to become a professional BMX rider and travel to America to compete in the world championships, but I'd also like to be a professional rugby league player. And I want to be a motor mechanic, too."
So who does he look up to in the sport of BMX?
"When I was 11 years old I saw Luke Mandill competing in a professional event called Across the Top Challenge in Nhulunbuy. He's my favourite for sure."
In terms of general sports stars, his idols are league legend Mal Meninga and boxing great Muhammad Ali.
Whatever William chooses to do with his future, his all-round talents should ensure that he is able to excel to the best of his ability. We wish him and his little brother Donald all the best.