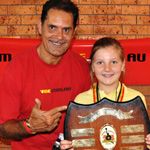 More than 600 young people, making up over 135 teams, came down like the weather on Bateau Bay PCYC in Wyong, on Friday.
Trialling the new Fun Friday format, Wyong Shire hosted the largest ever in the event's history and the shire's first-ever Vibe 3on3.
Penrith Panthers star Maurice Blair was inundated with fans as he took groups aside for football skills building and a few yarns about how important it is to lead a healthy lifestyle.
"What made this Vibe 3on3 more significant is that it was the first time in Wyong, which shows how much the community wanted to see this positive program come to the area and how hard the committee worked to make it such a success," producer Mayrah Sonter said.
"Our celebrity role model Maurice Blair was awesome. He was a real hit with the young people and, I think, really inspired some.
"The Friday night disco and break-off was fantastic, with a great crowd for the free barbecue and awesome night with rapper Lady Lash and DJ Black President in great form."
Opened by Darkinjung elder Aunty Bronwyn Chambers, the day included art classes, 3on3 basketball games, Indigenous games and hip hop classes.
Other dignitaries included Roy Ah See, Councillor for the Sydney-Newcastle Region of the NSW Aboriginal Land Council; Deputy Mayor, Wyong Shire Councillor Lisa Matthews; Federal Member for Dobell, Craig Thomson who
presented to winners of events.
Local sponsors Pelicans Aboriginal Corporation and Eleanor Duncan Aboriginal Health Centre worked tirelessly to ensure the health expo went off without a hitch and the Killarney Vale Lions Club cooked more than 1200 sausages and 60 kilograms of onions for the event.
Rapper Lady Lash and DJ Black President were on fire between 6pm and 9pm for the disco and break off where the talent was like an audition for So You Think You Can Dance?!
The next event on the Vibe 3on3® calendar is Taree on 26 March with teams registering steadily to be part of the program that aims to promote healthy lifestyles, strengthen communities and boost self-esteem.
There are still opportunities for health services and related organisations to be part of the Taree Vibe 3on3®. For more information go to www.vibe.com.au
The Vibe 3on3® would not be possible without sponsors Rio Tinto Aboriginal Foundation, the Department of Health and Ageing through the Office of Aboriginal and Torres Strait Islander Health and Vibe Australia. Supporters include the Koori Mail, Deadly Sounds and Deadly Vibe.
Ends…