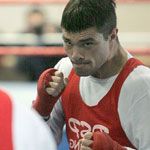 Indigenous boxer Jamie Pittman fly's out of Sydney today headed for Düsseldorf, Germany and a shot at the WBA middleweight world title.
The 26 year-old southpaw from Newcastle, won 111 of 137 amateur fights before turning pro in 2004. Since then he has amassed an impressive record of 16 fights for 16 wins, seven by knockout.
Nicknamed "˜Mr Business', Jamie has already won the WBF World Super Middleweight title, the Australian Super Middleweight title, WBO Asia Pacific Middleweight title, WBO Asia Pacific Middleweight title, the Pan Asian Boxing Association and the Pan African Middleweight crown.
Scheduled for April 5, the world title showdown against German Felix Strum is the biggest fight of Jamie's career to date and he has left nothing to chance in his preparation – even carrying a life size cut of his opponent to training each day for extra motivation.
The bout will be held at the Burg-Waechter Castello Stadium in Dusseldorf, Germany with a crowd of over 10,000 fans to be on hand to cheer on the German World Champion. Jamie will have plenty of Australian support amongst the pro-Sturm crowd however with a tour group of around 100 fans also taking the flight to Europe.
The 29-year-old Sturm comes to the ring as a three-time world title winner. As an amateur he represented Germany at the 2000 Sydney Olympics before turning pro and winning the WBO Middleweight title in 2003. Sturm lost the belt in a hotly disputed bout against all time great Oscar De La Hoya in the US.
Jamie departs Australia on March 26 for a 10-day preparation in Europe. He was forced to quite his two jobs nine weeks ago in order to train full-time for the fight and had to borrow $5000 from the bank and $2000 from his mother to bankroll the title bid.
A recently retired Danny Green has backed Jamie to bring the world title home.