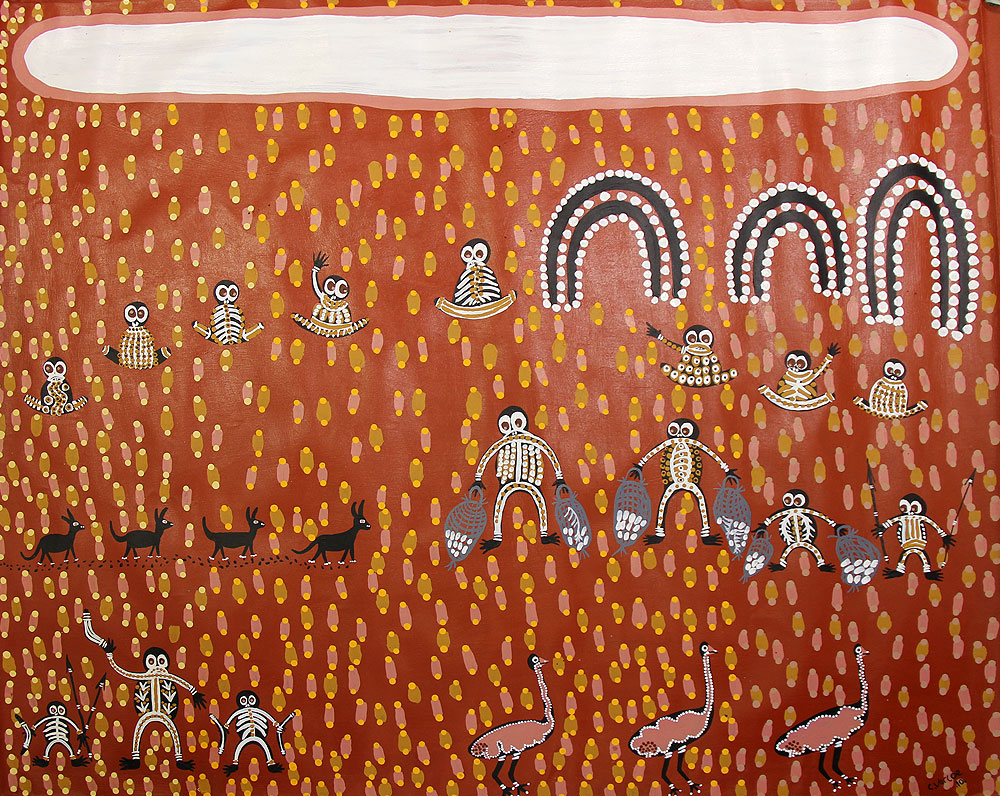 The Tali Gallery in Sydney's inner west will soon be celebrating its third birthday and arrival of a new Aboriginal artist – Cedric Varcoe

Cedric's work is rich with cultural heritage and the gallery is keen to convey his messages that have been passed down over generations.
His traditional themes include thunder, lightning, astronomy, hunting for emu, Ngurunderi the Creator and various dreamings.
Cedric was born in Adelaide in 1984 with strong family connection to Raukkan and Point Pearce. His language group and tribe is Narangga Ngarrinjeri.
He started painting at just eight years of age, watching his sisters and mother, aunties and uncles, with his preferred subjects being lizards, snakes and men hunting.
Cedric has now painted over 15 years and has been exhibiting his work since 1997. Some highlights have included; the Men of Ngarrindjeri Exhibitions in the Murray Bridge Regional Gallery and the Frankston Art Centre in Victoria, Our Mob exhibitions touring throughout South Australia and the Mpurlaarra Artists Group Exhibition at Tandanya.
In 2008, Cedrick completed a mural inside Port Pirie Police Station's jail cells in the hopes that he may inspire young Aboriginal people who had been arrested to have a better outlook on life, and perhaps try their hand at painting or the creative industries.
He won the Port Pirie Art Prize in 2009 and 2010 and, this year, won the Malka Art Prize in Port Augusta and the Kadina Kernewek Lowender Art Prize.
Cedric's work has been included in private collections and he has also been commissioned to create artworks for businesses.
The birthday celebrations of the Tali Gallery will also be held this Sunday afternoon, October 20 along with the first exhibition of Cedric's paintings. The exhibition will be open from 3pm to 6pm.
During the course of the afternoon, two very interesting women will speak about their experiences working in remote Indigenous communities.
These women are Irena Hatfield, who established and worked on Elcho Island and has written a book 'White Woman, Black Art', and Yaja Hadrys who worked in Ramingining in Arnhem Land.
Both will talk briefly and will be available for questions afterwards.