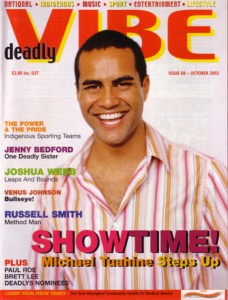 As a child Michael Tuahine loved to show off. Now the award-winning performer and son-to-be NIDA graduate is proving that showing off pays off. Deadly Vibe meets a showstopper in the making.
It's a sunny morning in downtown Kensington, home of Sydney's prestigious National Institute of Dramatic Art (NIDA), and an equally sunny Michael Tuahine has an hour to spare before rehearsals. He might be hurtling towards the end of his three-year acting degree, but from his relaxed and friendly demeanour, you'd think this handsome fella with the kilowatt smile had already graduated. In a way, he has.
If life were a university course, Michael would have passed with flying colours many times over. While many of his NIDA classmates were relative newcomers to the stage, give or take a community theatre production, Michael had already sung in the stage musical Showboat, appeared on TV in Farscape, and toured nationally with Corrugation Road before being accepted into the selfsame course that Mel Gibson and Judy Davis endured. And that's not counting the time he spent in R&B outfit AIM 4 More, or doing youth work.
Now we're seated, appropriately, in the plush surrounds of NIDA's brand new 750-seat Parade Theatre. Michael is gazing at the stage, littered with techies bumping in a new play, Jarrabin, by the late Dorothy Hewett. This is his end-of-degree show, the final performance of which he, Russell Smith and his other co-stars will present to the cream of Australia's talent scouts on the scary-sounding Agents' Day.
To us that may sound like an ending, a full stop, time to draw breath. But not for Michael.
"My journey has only just begun," says the affable 27 year old, settling back into his seat. "When the curtain comes down on our final performance and we clean out our lockers, that's when it all starts. But even now, looking around, knowing I've been centre-stage delivering monologues to the back of this theatre with all the knowledge and power and enthusiasm you can learn from this place, it still hasn't hit me that it's almost over."
In those three years Michael has distinguished himself with performances in plays by Chekhov, Tolstoy, Shakespeare ("freaking hard work!") and Edward Albee, not to mention a world premiere of Country Music by Oscar-nominated playwright Nick Enright. He's been directed by some of the country's best, and has met the likes of Cate Blanchett, David Wenham, Susie Porter, Guy Pearce and Angie Milliken ("my future ex-girlfriend!" he quips). But in spite of all this, Michael hasn't always been at ease with the idea of being an actor.
"I remember coming here with a lot of enthusiasm, but once the work picked up I thought, 'what have I got myself into?' I felt like the least sophisticated person in my class in so far as knowing which plays were which and what they were about. I wasn't up on Chekhov or Strindberg, and I didn't know about Stanislavsky. I lot of my classmates went and did Arts degrees at uni before coming here. When I finished school I went to work with street kids."
Working with street kids is arguably a better foundation for coming to understand the nature of people (what else is acting about?) than poring over obscure dramaturgical theories and deconstructing 'texts'. Still, there were times when he hated the place.
"NIDA takes you right out of your comfort zone daily!" he grins. "The commitment required is huge. Personal and family relationships get put on the line, and you don't have time to hold down a part-time job. I'd love to say I loved every minute of being here, but I didn't. Second year was especially tough, and so it should be. If you want to be the best Hamlet in your suburb, then go for it. But if you want to step up and be with the big boys, then come on in and slug it out here!"
Slug it out he has, and now the rewards are making themselves manifest. Michael feels as though he has grown both as an actor and a person.
"I was until we did Shakespeare's Titus Andronicus that I knew I could really do something here, take it on, trust myself and the work. It's amazing when you get hit with those sorts of challenges; I've managed to surprise myself and everyone around me. Now, as a man, as Michael, I feel more settled and relaxed, more confident and more giving. I feel more at peace with who I am."
So who is he? The youngest of five, Michael was born in New Zealand and moved to Australia with his family at age four. His mother, a Gungalu woman from central Queensland, and his father, a Ngati Kahungunhu man from the east coast of New Zealand were, fittingly, his first audience. And his first venue? The family kitchen.
"I used to get out the pots and pans, set up the imaginary drum kit and away I'd go. My 'you beaut' drum kit didn't sound or look too good, but hey, it was a drum kit! I've always loved showing off, being out there, being outrageous, the centre of attention. I guess it comes from being the youngest."
His capacity for keeping rhythm soon segued into a passion for singing, and in particular, singing country music. It's no surprise to learn the extent to which he enjoyed being in Nick Enright's so-titled play, not to mention his penchant for the sounds of Troy Cassar-Daley.
"Country music is an abiding love of mine," he confesses. "It's quite a simple thing to do, but when done really well, those tunes are irreplaceable. What I love about a lot of Aboriginal country singers is that they've taken country music and adapted it to the land and to the people. It's the same sort of vehicle but they've given it a bigger meaning."
As host of last year's 'Back to Country' Deadlys, Michael got to meet and sing with many of those legends. And he did such a good job, the producers have invited him back to be the smilin' eyes of this year's lavish awards night, to be held at the Sydney Opera House. It's a gig Michael holds close to his heart.
"Hosting the Deadlys is an absolute honour. I loved it last year and I'm looking forward to having a burner again this year. Our community doesn't get together often enough. We're too busy trying to make it and look after ourselves at the same time. The Deadlys is one of those rare nights when everyone gets to hook up."
Of course, Michael is no stranger to awards himself. To date he has been bestowed with a Deadly for Most Promising New Talent, a Rolling Stone Magazine Award for Most Promising New Talent, and a NAIDOC Award for, you guessed it, Most Promising New Talent. ("I've made a lot of promises!" he chuckles.) And all this before even graduating from NIDA. One can only imagine what his mantelpiece will look like in five years' time.
"Michael has grown enormously during his time here," says NIDA's head of acting, Tony Knight. "He has great authority on stage and the most extraordinary charm, which is an enviable thing to have. He's definitely leading man material."
But back to the conversation in the stalls and an hour has now passed. Michael is required back in the rehearsal room. Before he goes, though, two last questions. If one were to condense all three years at NIDA into a single lesson, what would it be?
"Nick Enright taught us always to be available for that person standing opposite you onstage. Open your heart and your arms to them. Have fun and let go constantly."
Finally, a word of encouragement, or advice, for someone wanting to follow a similar path. Someone who has perhaps entertained their family with a drum kit of pots and pans. Someone with an overwhelming desire to understand the nature of what it means to be human through the prism of acting.
"If you're asking yourself what to do with this talent and energy, trust it and know it's a gift," he says, standing to leave. "If you're 16 and you wanna take on the world, do it. But keep your mind open, stay true to yourself, and your mother's always right!"
Michael Tuahine has left the building. The show is about to begin.