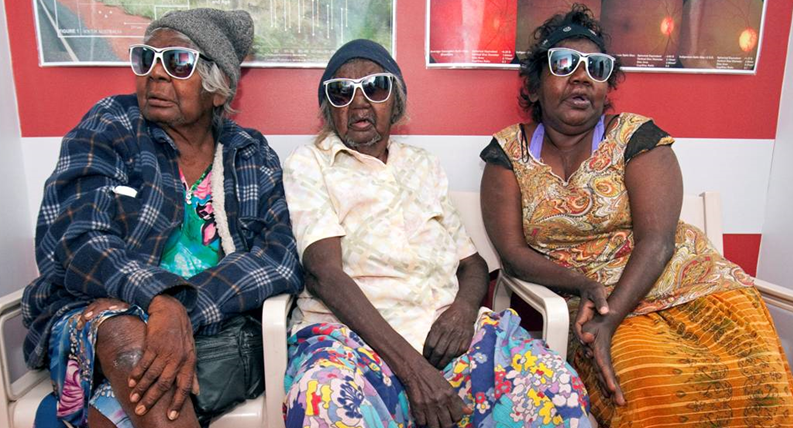 The Fred Hollows Foundation recently conducted another eye surgery blitz at the Alice Springs Hospital to improve the eye health in Aboriginal communities.
Approximately 30 patients travelled from more than 15 remote communities from across central Australia to get much needed surgery to restore their sight.
The surgery blitz has been running since about 2007 and through cooperative work they have successfully restored the sight of 700 Aboriginal and Torres Strait Islanders.
Aboriginal and Torres Strait Islander people are six times as likely to go blind as opposed to non-Indigenous Australians, and the majority of the conditions are entirely preventable and treatable, like refractive error.
"Some things that are preventable are refractive error which is fixed by simply getting a pair of glasses. If we could accommodate that a lot of the preventable eye diseases would be covered," says Manager Indigenous Australia program, Jaki Adams-Barton.
"Generally people will think of their eyes last in the scheme of thing that they're getting fixed but if they're going to in for a diabetes check get your eyes tested as well; if you're going for an annual health check get your eyes tested as well.
"You have to integrate the need for an eye test into the system as opposed to making it a separate body part approach."
All this was made possible by the tireless efforts of the late Professor Fred Hollows, a man that passionately put his ideals of equality into practise through extensive work within the Aboriginal and Torres Strait Islander community.
"Fred was very passionate about eye health but through his travels he also took on the plight of ensuring that everyone had the right to good health," she says.
His legacy is continued today through the Indigenous program at the Foundation and carried out by many equally as determined doctors like Dr Tim Henderson – a man that takes his sight saving screening and laser surgery to communities so remote that they are beyond the reach of traditional eye health services. His practice spans more than 1.6 million square kilometres.
Tim was just one of the Ophthalmologists treating conditions like trachoma – a condition that has no place in a first world country like Australia.
"There are no excuses for Australia to be the only developed country in the world where people still suffer from trachoma, where Indigenous men in areas such as the east Katherine region have an average life expectancy of 46 years, where babies are dying at a rate three times higher than babies born to non-Indigenous parents," says CEO of the Foundation, Brian Doolan.
The Foundation also works to improve more than just eye health, taking a holistic approach to the health of our mob.
Most people have access to holistic healthcare as well as eye check-ups and surgery with visiting GP's or local health clinics. But the key to maintaining 20/20 vision is as easy as an eye exam.
"The basic thing that needs to be done is for people to have their eyes tested. We know that 35% of Aboriginals and Torres Strait Islander adults have never had an eye exam," says Jaki.
"In the future I would like to see continued improvement in Indigenous health and a more unity around what can and should be done in terms of improving, accessing and delivering services."