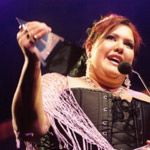 Deadly Vibe Issue 104, October 2005
Casey's Coup
It was another victorious night at the Opera House for Casey.
Casey Donovan was once again the Queen of the Sydney Opera House on Thursday, September 22, taking out not one, but two Deadly awards at the spectacular ceremony.
Casey opened the show with a dazzling rendition of Symphony of Life – a number that originally floored the judges during Australian Idol. Her voice soared through the magnificent Concert Hall, drawing whoops of praise from an awe-struck audience.
She barely had time to change from her amazing costume into a flattering black gown, matched with some very Casey-esque boots, before being ushered into the audience to hear the announcement of who was to take out the Single Release of the Year.
When her name was announced as winner – for her single Listen With Your Heart – Casey made her way to the stage to the accompaniment of deafening cheers.
Her acceptance speech for both was typical Casey style – low-key, humble and with her trademark dead pan humour. She had managed to jot down brief speech notes on the back of a Qantas boarding pass, and took the opportunity to thank everyone who had been a part of her successful whirlwind of a year.
"I wasn't able to be here last year," she told the audience. "So it's all the more special to here tonight to accept this award."
A few short minutes later, with only enough time to make her way back to her seat, Casey was once again called up to the stage to receive the Deadly for Artist of the Year.
"This one's for the fans," she said of her second award. "Because none of this would have been possible without you."
After the ceremony Casey also talked about how much she enjoyed the laid-back atmosphere of the Deadlys.
"It's like family," she said. "It's more relaxed and fun because everyone knows each other."
(story date October 1, 2005 end)
Deadly Vibe Issue 95 January 2005
No ordinary Idol
It's been a hectic couple of months for Casey Donovan. After an audition process that pitted her against 49,999 other young hopefuls, she was put through a gruelling weekly round of performances that left her at the mercy of the public vote.
As if that wasn't enough, Idol finalists also had to take part in a whirlwind of interviews and public engagements.
But if Casey thought life was busy then, nothing was going to prepare her for the life of an Australian Idol.
"It's been crazy," Casey says, sniffling a little from a fatigue-induced head cold. "For instance, the last three days have been filled with media. Basically, I just spend the day being interviewed by strangers who want to know all these nitty-gritty details about me.
"I'm not really one for talking about myself " I think it's pretty boring, really."
Obviously Australia doesn't agree. Casey's face now adorns the pages of magazines and newspapers across the country, and she can barely appear in the street without being surrounded by fans and well-wishers.
"Sometimes I sort of miss just being a schoolgirl," she admits. "You kind of freak out at everything and have a half-breakdown. But then I remi nd myself " I'm the Australian Idol! It still really hasn't sunken in, I guess."
Immediately after winning the competition, Casey headed straight into the recording studio, where she had six days to record an entire album.
"We did two songs a day," she says, "which doesn't sound like much, but when you have to do it over and over, it's really tiring.
"I really started to feel the pressure, because you have to get everything right."
Her album includes the number one single Listen With Your Heart, a live version of Tina Arena's Symphony of Life and a Casey Donovan original, For You, which is the title track of the album.
"I went and saw the producer and played him For You," Casey says. "He really liked it, so I asked if I could include it on the album."
Although the album may not be quite what you'd expect from a Nirvana fan, Casey is delighted with her work and is yet to decide which direction she'll move towards in the future.
"I dunno," she admits. "Maybe I'll do some bluesier, jazzy stuff. But I'm influenced by a whole bunch of styles."
Casey names Todd Williams as one of her favourite musicians, along with her cousin Emma Donovan, with whom she has performed in the past.
Although Casey is now living the life of a pop star, she still lives at home with her family who, along with her mates, help her to keep her feet on the ground.
"It's nice to come home and go over to a mate's place and hang out," she says. "Or to just pull on an old pair of Converse sneakers and relax. Now they're the moments I enjoy!"
(story 1/1/2005 end)
Deadly Vibe Issue 94 December 2004
Casey wins Idol!
She wears long black dreadlocks, loves Nirvana and prefers Converse sneakers and sloppy joes to strappy heels and designer gowns " this deadly 16-year-old from Bass Hill in Sydney has won the nation's heart.
Our very own Aboriginal idol has taken out the Australian Idol crown at a spectacular ceremony at the Sydney Opera House.
Nearly four million people tuned in around the country to watch Casey Donovan and fellow contestant Anthony Callea battle it out for the top prize. Anthony, a diminutive voice coach from Melbourne, was seen by many as the favourite to win, but our Casey's powerful voice and quirky personality won over the voting public.
A huge crowd of supporters, along with Casey's family and friends, gathered at the Bankstown Sports Club in western Sydney on the night to cheer on their favourite.
"When they read out her name, the place just went crazy," says Casey's cousin Emma Donovan. "For a minute there, I couldn't even speak properly I was just so excited."
Casey's father Merv, who was watching the grand final show at the South Sydney Leagues Club in Redfern, was mobbed by family, friends and other well-wishers when his daughter was announced as the winner.
Casey's mum Tracey Axford and step-dad Norm Axford attended the star-studded ceremony at the Opera House, along with Casey's siblings Mitch, Josh and Sarah.
Casey was one of 50,000 people to audition for Australian Idol. Making it into the final 30, and then the final 12, Casey slowly blossomed from a shy, grungy teenager into a glamorous and confident young woman.
Her devastating voice, knack for making the right song choices and ability to interpret and deliver the true emotion of a song made Casey a favourite of the show's judges, Ian "Dicko" Dickson, Marcia Hines and Mark Holden.
The Donovan dynasty has been part of the Australian music scene for generations, with Casey's father Merv, uncles Michael and Ashley and cousin Emma all successful musicians who have performed around the country and around the world.
"Casey's been singing since she was a little kid; we all have," says Emma. "It's just in our family. Everyone is into music and singing. Even our little four-year old cousin, a huge fan of the show, has started singing now!"
Despite her obvious talents, Casey was not expecting to win and hadn't even practised the winning song, Listen to your Heart, which she released as a single the day after the ceremony. When she was pronounced the winner, her utter shock was there for all to see.
"When I saw Casey start crying, that started me off as well," says Emma. "We just couldn't believe it!"
Casey thanked all of her fans, as well as her family and friends for all their support during the gruelling competition, which saw her keeping to a hectic schedule as well as having to complete school work.
Now that she has won this most coveted of Australia's pop music prizes, things are only getting busier for Casey. She also won a record deal with Sony BMG, and had only nine days to record her first album.
She also won a red Mazda MX5 sports car.
"She isn't even old enough to get her licence," Emma laughs. "Her brother gets his Ps soon, and he is dying to have a go in it."
Casey will also be undertaking a national tour with the other 11 competition finalists next month, so watch out " she might be coming to a town near you.
(story 1/12/2004 end)
Deadly Vibe Issue 93 November 2004
Casey's Star Shines Bright
Casey Donovan has been winning hearts and wowing audiences all across Australia with her powerful voice and quirky personality, and no-one could be prouder of her than her own community.
The Australian Idol finalist was the winner of the Most Promising New Talent in Music award, and her popularity was evident as the crowd roared at the announcement of her name.
Casey was unable to attend the Deadlys because she was in lock-down for Australian Idol, however, her family were more than happy to accept the award on her behalf.
Michael, Ashley and Merv had already been on stage to accept their own award for Band of the Year, but the close-knit family were bursting with pride for their youngest star.
"It's awesome. It's great to see someone have a goal and work so hard for it, especially someone so young," said Casey's dad Merv.
The family thanked the community for their support during Casey's Idol journey, and are delighted that the show has given Casey the recognition that she deserves as a performer.
"Casey's going to have a recording contract thanks to this competition," her uncle Michael said on the night. "How fantastic is that? It's about time our young people were recognised for the talent and passion that they can bring to the Australian music industry."
"Who knows," Merv joked. "We'll probably end up singing back-ups for her now!"
(story 1/11/2004 end)