Hundreds of enthusiastic students enjoyed a day full of activities at the first ever Stronger Futures Alice 3on3 on Wednesday 19 June.
Students from Alice Springs and across the region participated in the Stronger Futures Alice 3on3 at the Alice Springs Basketball Stadium for a day of basketball, rapping, hip hop and break dancing lessons, art workshops, a dance competition and a Stronger Futures Expo attended by local organisations.
Hosted by actor Luke Carroll, the event was a free day for young people to get together and participate in fun activities that help to promote youth leadership and the importance of going to school to get a good education that can lead to a rewarding job in the future.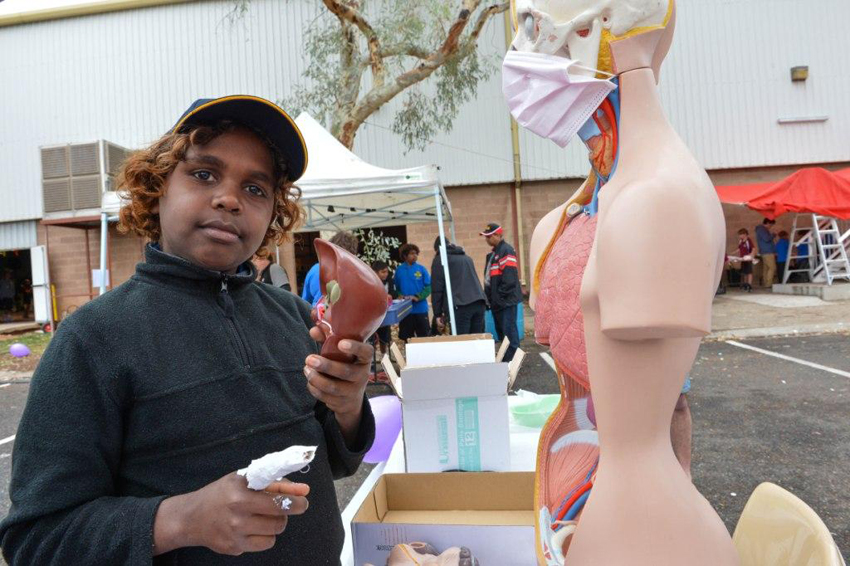 Click here to see the Alice 3on3 photo gallery
The event included a specific focus on the Australian Government's $3.4 billion Stronger Futures in the Northern Territory initiative, which aims to build strong, independent lives, where communities, families and children are safe and healthy.
For event producer Mayrah Sonter the day was a huge success.
"It's the first time we've had the Stronger Futures 3on3 in Alice Springs and it was a big hit," she says.
"Everyone had a great time and there was positive feedback from everyone involved. All in all it's about encouraging kids to dream big and to believe in themselves and the power of their dreams."
A highlight of the day was The Wheel of Life – a game where students spin the wheel and answer questions about subjects such as health, education and sport, for prizes.
"The Wheel of life was run by marathon runner Charlie Maher and proved a popular activity with the kids," she says.
"Aunty Barb Satour did a wonderful job welcoming everyone to Arrernte Country. Councillor Eli Melky also helped to open the event, along with Leon Tripp speaking on behalf of the local organising committee."
Move It Mob Style dancers Shari Tango and Milika Blackie-Smith were among the role models attending, which also included artist and comedian Kevin Kropinyeri, rapper MC Bryte, DJ Jimblah, local singer/songwriter and television host Jacinta Price, and NT Thunder stars Paul Campbell and Kevin Renehan.
"They ran an amazing dance workshop for us and also performed at the Opening Ceremony. Milika did a backflip which the kids loved," Mayrah says.
"We had an amazing drumming workshop. It was a really good activity because the kids got to count the beats in language. Paul Campbell and Kevin Renehan ran footy drills with the kids, that they all really enjoyed."
The event would not have been possible without the support of the Australian Government through the Stronger Futures in the Northern Territory initiative. For more information visit indigenous.gov.au.
Vibe would also like to thank the local supporters of the 3on3: Central Australian Aboriginal Congress, the Rotary Club of Alice Springs and Central Australian Aboriginal Media Association.
"We would like to send a big shout out to local committee for all their support, as well as to all of the volunteers, students, teachers and health representatives who participated," Mayrah says.