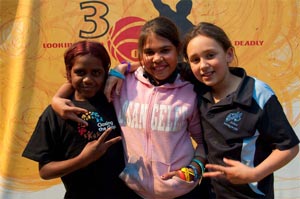 A spectacular Vibe 3on3® basketball and hip hop challenge and Community Concert took place at the Alice Springs Youth Hub, Anzac Hill on Friday.
Organisers have described it as one of the best events in the Vibe 3on3® 13 year history, with some 1,000 people attending throughout the day and night.
The Alice Springs community turned out in record numbers throughout the day, bringing enthusiasm and anticipation as they came together to celebrate healthy lifestyles and having fun.
"This event had it all – fierce competition, an energetic organizing committee, many volunteers, a live radio broadcast, and health expo," Executive Producer Gavin Jones says.
"Throughout the pre-event school based songwriting workshops, the actual event itself and the Community Concert young people not only had the opportunity to have fun, but also to learn about staying strong and what that means, from saying no to drugs and alcohol and taking personal responsibility, to getting the most out of their education for the future.
"The event was really well supported within the community. We had representation from local organizations at the Vibe 3on3® including the Central Australian Aboriginal Congress, NT Police, Central Australian Aboriginal Legal Aid Service, Australian Electoral Commission, and the Alice Springs Indigenous Co-ordination Centre.
"The friendly and supportive community and our amazing local organising committee ensured the success of the Vibe 3on3® and Community Concert. We definitely can't wait to return."
The Welcome To Country was performed by Christie Bloomberg on behalf of the Arrernte people. Alice Springs Town Council Mayor Damien Ryan spoke at the Opening Ceremony.
Vibe 3on3® role models were – MC, Shannon Williams (aka BrothaBlack), Naomi and Joel Wenitong (the Last Kinection), Kevin Kropinyeri (artist/comedian), Jason Campbell (dance), Medika Thorpe (dance), and local role model Charlie Maher (AFL/New York Marathon/Boston Marathon).
Northern Territory based singer/songwriter Shellie Morris held workshops over the three days in the lead up to the Vibe 3on3® event and also performed at the Community Concert. The children from Bradshaw Primary, who had participated earlier in the week in Shellie's workshops performed their song at the opening of the Community Concert. NT singer Warren H Williams, and local act Catch the Fly also performed at the concert.
Over 70 teams competed in the action throughout the day.
The Vibe 3on3® Alice Springs was brought to you by the Australian Government, Closing the Gap and was proudly supported by local sponsors, the Alice Springs Town Council, CAAMA Radio, Woolworths, the Youth Hub, and the Crowne Plaza Alice Springs.
The Vibe 3on3® festivals would also not be possible without our principle sponsor the Department of Health and Ageing through the Office of Aboriginal and Torres Strait Islander Health (OATSIH),and Vibe Australia. We also thank our supporters the Koori Mail, the Jimmy Little Foundation, Kerrie Hayes Productions, Deadly Sounds and Deadly Vibe.