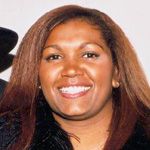 Fresh from her breathtaking performance at this year's Deadlys, Emma Donovan is proving that she's got a very bright future ahead of her in country music. She's got the voice, she's got the smile and being a Donovan, she's certainly got the pedigree!
Emma is probably best known for her involvement with exciting acoustic group Stiff Gins, winners of last year's Deadly for Most Promising New Talent. (And of course they took out Single Release of the Year in 2001 for "Morning Star".)
However, Emma recently decided to pursue her love of country through a solo career and is currently working on her debut CD, which she hopes to have out early next year.
"I am really hoping to turn my music into a full-time profession," says Emma. "So far it's going really well and over the next three months I'll be looking at getting more gigs throughout New South Wales, and getting some more band members."
The young star performed two of her own songs at this year's awards – "Sunrise", and "Gumbainggirr". "Gumbainggirr" is a song Emma wrote about her grandmother, Aileen Donovan, a woman who has been a major influence on her music so far.
"My grandmother and grandfather are my heroes," she says. "They were legends on the country music scene for a very long time and have inspired me to pursue a career in music."
Towards the end of the Deadlys Emma took part in the finale, where she got the opportunity to sing alongside some legends of Aboriginal country music, including members of her own family.
"The finale was great. I've sung with Uncle Jimmy Little before, so it was really great to sing with him again, as well as some of the other great Aboriginal artists like the Tiddas, Vic Simms and Uncles Michael and Merv."
Deadly Vibe wishes Emma Donovan all the best as she establishes her name in country music.
DEADLY VIBE STAR WATCH
What's your name? Emma Donovan.
Whereabouts do you come from? Nambucca Heads, New South Wales.
What's your nickname and why? Sis, it's just what my brothers and cousins call me.
Do you like your nickname? Yeah.
When did you first start singing? At the age of five.
Did you always want to be a singer/musician? Yes, ever since I was little.
If you could jam with any musician, who would it be? Lauren Hill.
Name a song that most describes who you are. Can't think of one.
Do you sing in the shower? Sometimes, although I've been told to shut up a few times.
What is your fantasy holiday location? I would like to see the whole of Australia.
Favourite TV show? Malcolm in the Middle.
Favourite film? Remember the Titans and Grease.
Favourite book? It's No Secret by Donna Meehan.
What CD do you have in your CD player at the moment? Paradox by Bobby McLeod.
Most embarrassing experience in your life so far? There have been plenty but I can't say.
Most fulfilling experience in your life so far? Celebrating the new millennium at Sydney Harbour and watching the fireworks.
What would you most like to change about yourself? Nothing much.
Vegemite, Marmite or Promite? Vegemite.
Coffee or tea? Tea.
Favourite food? Ice cream.
What's your favourite (clean) joke? I haven't got any good ones.
Who are your heroes? My grandparents Aileen and Mick Donovan.
What's on the cards for the coming year? I am hoping to release my solo album within the next 12 months.
What is your motto in life? I believe everyone is talented at something and whatever it is you should follow it through and make something of it.