Southern Arrernte woman and acclaimed artist Jenni Kemarre Martiniello has been named the overall winner of the $40,000 Telstra National Aboriginal and Torres Strait Islander Art award, the nation's most prestigious Indigenous art prize.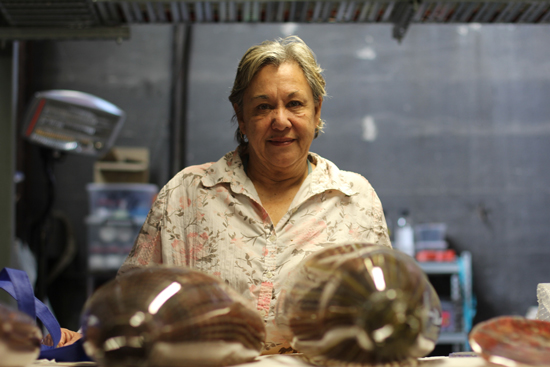 Jenni won with her work Golden Brown Reeds Fish Trap, which combines the cultural tradition of weaving with the challenging medium of glass. It took a team of seven people to assist Jennie to create the work.
Judges said her work, Golden Brown Reeds Fish Trap, had introduced a new vehicle for Aboriginal cultural expression. In a statement they said: "The work's sophistication, elegance and mastery of the medium made it the standout of the exhibition." "It was a work inspired by the woven fish traps of North East Arnhem Land and Cape York, and an experimentation in how to create fish traps from glass.
"It was a very difficult piece to do, demanding physical and technical assistance from my team," Jenni says. "It combined our very old traditions with the Italian technique for glassmaking, which is also centuries old, and the challenge was to incorporate Australian colours. We laid out the glass in layers and then put those layers over a bubble of hot glass over one metre long, doing many things simultaneously and working with the glass at 760°C – and the glass was molten and moving. "It was a laborious task and while nothing is ever perfect, I think it's the closest I've come to perfection."
For Jenni, working with glass comes close to her passion for sculpture. "Glass is an amazing medium and does wonderful things with light. The hidden material is the engagement with light. The beauty of the Fish Trap comes from the way it picks up the interplay of light."
Jenni grew up seeing the woven work of Aboriginal women, and has always been 'passionately in love' with weaving. "It's what our women do and is the passage of wisdom, and the passing on of stories."
Her aim with her award-winning work is to focus back on Aboriginal traditions – the oldest, living weaving tradition that has survived, and to combine it with the centuries' old tradition of Italian glassmaking. "The work tells the story of our survival, that our heritage infuses every part of our life and our being, and says 'We are going to survive because we can adapt'. We have our new dances and stories and we live bi-culturally. And there is a cultural richness in our lives, as well as our challenges, but we've survived and adapted," she says.
Jenni, who lives in Canberra, grew up in Adelaide and says art has always been a part of her life. "My grandmother used to say that what you've been born with will come out. My advice to young aspiring artists is to have confidence and let your art grow you. Take risks; some things will work and somethings won't, but they always give you insights about the next direction you can take, and it's always exciting and generates more energy [for your art]," she says. Find out more about Jenni's art at www.kemarrearts.com.au