What a tumultuous and triumphant 12 months it's been for Archie Roach, the man rightly considered to be among the most important Aboriginal voices of the modern era.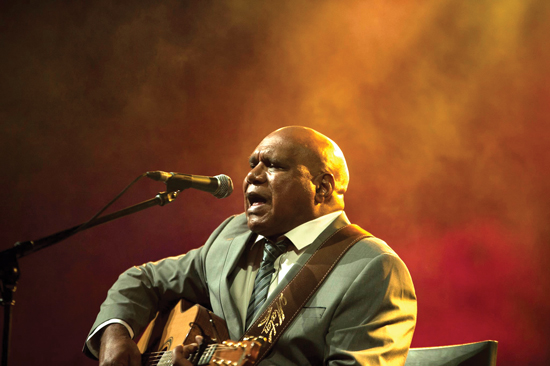 From the loss of his beloved Ruby to his battle with lung cancer, Archie has pulled himself from the canvas once more and hit back strong, releasing a vital and award-winning album Into the Bloodstream, and now another CD release and performance called 'Creation', which sheds new light on his incredible body of work. To hear the songs of Archie Roach and to watch the man perform, is to look upon history in the making.
Fresh from headlining the 2013 Deadly Awards, where he also accepted a slew of awards, Archie Roach will next month premiere his new live show, Creation, at the Boomerang Festival at Byron Bay, and also release a four-CD set of the same title.
The set features remastered versions of his classic songs, as well as a trove of previously unreleased material. For the 'Creation' live show, Archie will be joined on stage by a 10-piece musical ensemble, featuring a string quartet under the direction of Jen Anderson and flanked by the sublime vocal magnificence of Lou Bennett, Emma Donovan and Deline Briscoe.
The opportunity to see him perform previously unheard songs, live for the first time will be a truly historic experience, and a huge treat for fans. The recent battles Archie has fought will make it all the more special. The performance and CD consolidates a uniquely Aboriginal and Australian body of work, which found its genesis at the family's kitchen table. Archie created, crafted and then recorded songs on an old tapedeck.
Never far from his side, his late partner and musical muse Ruby Hunter would provide never-ending cups of tea and occasional harmonies. It was at this kitchen table, with life bursting at the seams all around him – children running around, family and friends dropping in at all hours of the day and night – that Archie captured the essence of those songs that would one day travel to touch the hearts and souls of people worldwide.
Archie Roach's contributions to his people are difficult to measure in words but at the 2013 Deadlys he let the music do the talking, performing the finale Song to Sing – a mix of soul, gospel and storytelling, backed by a 20-piece gospel choir. And what a shoutout to his people it was, following his two Deadly Award wins on the night for Album of the Year and the Lifetime Contribution to Healing the Stolen Generations.
The joyous and uplifting Song to Sing featured on his 2013 Deadly Award winning album Into the Bloodstream, and the live shows he has been touring with across Australia this year to promote the album. Into The Bloodstream – and his life-affirming shows – are about "finding strength" then expressing it.
Making Into the Bloodstream was a healing journey from the grief and pain of losing his lifetime partner, and Archie's subsequent illness. Another major driver was to share his music. "I was brought up to share whatever you had, whether it's food or something else. What you give, you get back and sharing with someone else makes me feel good. Pass it on.
"I have learned to look at pain differently. I know that pain can make you sick, very sick! Pain can also bring about change in one's life for the better. We can choose to ignore the pain until it becomes unbearable or we can do something," he says. "I used to think that letting go of the pain was the only way of getting better but that may not be necessarily so. You see some events in my life I will never truly get over and the pain will always be there but I can do something about it."
Into the Bloodstream helps us to talk about the pain, Archie says, but he stresses that his songs are joyous and uplifting, too. "Performing them makes you feel you want to get up and clap your hands. I suppose I have taken a gospel sound, which is a different sound for me, and the songs are uplifting," he says.
Since 2010, Uncle Archie has fought back. Following the loss of his lifetime partner Ruby Hunter, he suffered a stroke and was diagnosed with lung cancer, which meant the removal of half a lung. "The main thing was just getting better and healing. The album [Into the Bloodstream] lessened the weight I was carrying throughout the years, like a lot of my people carry the burdens," he commented late last year. "But it wasn't easy to come back. With the support of family and friends who could see I wasn't doing well after I lost Ruby, and the encouragement from my manager, Jill Shelton, I did. Ruby's spirit didn't want me to give up, but I just wanted to stay down and not get up."
But Uncle Archie did get up and today he is grateful that he is alive every day. At the 2013 Deadlys, his people showed him just how grateful they are for his recovery and, more importantly, that he is where he should be – up on the stage and sharing his music.