Now one of Australia's most successful performers, Indigenous or otherwise, Christine Anu has been inspiring young indigenous kids to aim high and go for their dreams for more than 20 years now. Now at age 43, the Torres Strait Islander beauty has five ARIAs under her belt and an extensive acting portfolio, which boasts roles in several popular television shows, international movies and stage plays.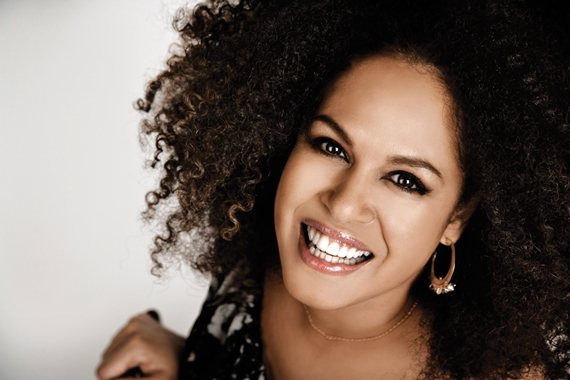 Christine remembers growing up watching Young Talent Time with her parents and thinking that a career in singing would be a "fairytale dream come true". "I think I saw a young Tina Arena on the television screen and just thought 'Oh, I want to do that'.At that time there weren't very many Indigenous singers. At least, if they had gone before us, it was generations before I was born anyway," she says.
Christine grew up in and around Queensland, finishing her schooling at Rockhampton. She then enrolled in NAISDA and made the big move to Sydney at the end of 1987 – the next year being the Bicentenary. "So I was a big wide-eyed kid really, taking in the whole experience – it was a political time as well for Indigenous people," she says. "It really did sort of grab hold of my heartstrings and sort of shook me to think 'What is our place as Indigenous people?' – not just in Australia, but in the world. And our voice… and it being heard."
Starting out as a dancer for Bangarra in 1993, Christine also found herself doing some of the backing vocals for The Rainmakers, which included Neil Murray of the Warumpi Band.
In the same year, she recorded "Last Train", a dance remake of the Paul Kelly song. "I joined Bangarra first, then they said listen, if you've got a lot of record company commitments that you have to go off and sing and stuff, then you need to make up your mind whether you want to stay with us or go off and do that," Christine says. "They said they'd always be there if things kind of slowed down a bit. So that was wonderful. I loved the security of being able to come back to dance if things didn't go the way I wanted or if they slowed down."
Working with Neil Murray, Christine recorded "My Island Home", for which Neil won an Australasian Performing Right Association (APRA) award for songwriting. Christine won both an ARIA award and the Deadly Sounds National Aboriginal and Islander Music Award. She had captured the eye of Baz Luhrmann, too, because he asked her to sing the song "Now Until the Break of Day" on his Something for Everybody album. The song was released as a single along with a music video, which won an ARIA and earned her a part in the movie Moulin Rouge!
In 1998, following her appearance in the Australian play 'Rent', Christine was offered the role of Mimi in the play on Broadway. She turned it down, instead choosing to work on her second album. In a later interview with Deadly Vibe stated: "I didn't want to be the 71st Mimi. I wanted to be Christine Anu again. And during those six years, I was writing songs."
She also said that her role in 'Rent' gave her some of the best reviews she had ever had in her life. Looking back on that moment, Christine says that it was a very hard decision to make. "I went and sought some advice at the time and the advice that was given to me was that it would probably be better if I recorded the album as opposed to taking the offer to go to Broadway," Christine says. That decision meant that Christine went on to release her hit single "Sunshine on a Rainy Day" in 2000. And it was the right decision it seemed: the song reached number 26 on the Australian charts, and saw her nominated for two ARIAs, including one for Engineer of the Year and Best Female Artist. Christine went home with the award for Engineer of the Year. "I love singing, it's something I've been doing for the last 20 years without a break and it's something that I know I'll always have and I know I always have had it," she says.
Christine's acting career began in 1996 when she played a minor role in the movie Dating the Enemy. She also appeared in Moulin Rouge! and The Matrix Reloaded, as well as the TV shows Wildside, The Alice, East West 101, Outland and most recently Dance Academy.
"With the acting, I feel that it's something that I'm still trying to build on and work on, so I'm really revelling in all the new characters that I get to play. Especially the directors and producers and the fellow actors that I get to work with because there's just so much to learn and they just give me so much," she says. "I've found that the people that I've worked with so far are so generous, too. But I love all three things (singing, dancing and acting). They are a part of who I am and I feel that I express myself genuinely through those different art forms because they are connected to who I am."
The best is yet to come says Christine. Rather than thinking of particular parts of her career as highlights, she says she's enjoyed it all. "I guess those seeds are planted when you are young and you sort of hold onto those sorts of dreams and inspirations," she says. "I think that life tends to set a path out in front of you that leads you on a journey towards that destination and even though it's not a destination, I'm still waiting for the most wonderful event to happen for me."
Being one of the most successful Torres Strait Islanders entertainers we've ever seen, Christine has graced both the pages and covers of Deadly Vibe magazine over the years many times, and she believes Deadly Vibe has helped Aboriginal and Torres Strait Islander communities from all over Australia connect and grow. "It's given communities their own media format to identify themselves with and connect with people in the community who are doing great things – the things that young kids look up to and aspire to be," says Christine. "There were no magazines when I was younger, there were no award ceremonies and other things that are connected to Vibe that reach out to the community and connect them to everyone around Australia. "I think it helps to make our community grow, from coast to coast and from community to community, to connect us all as one united blackfella, you know?"