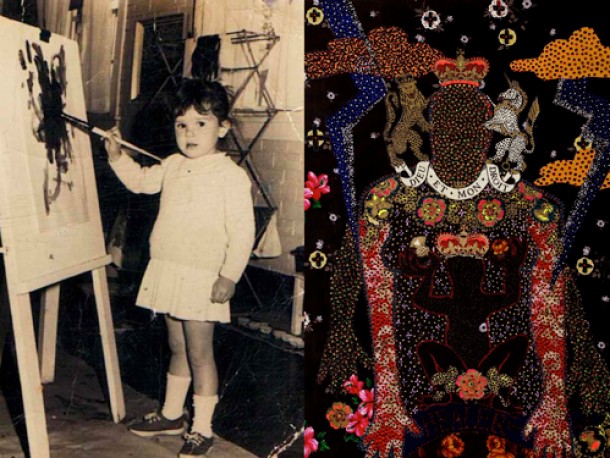 Of late, artist Karla Dickens has been spending a few afternoons every week at the local tip. It's not the kind of place you would imagine starting a piece of artwork from, but to use her words, right now is not a good time to be selling art. "Times are tough," she says, "they have a shop at the tip and I collect different things there that I find interesting to work with." 
It was on one of these missions, through the discarded, that Karla came upon an old Australian flag which inspired the artwork that would go on to win this year's Aboriginal Art Prize.
From a young age Karla has always been drawn to put things together from items that she had found. In her 20's she did a fine arts degree at the National Art School in Darlinghurst and has not stopped creating ever since. "Art has been my saviour," she says, "keeping me off the streets and given me a voice that I never had before."
Karla is represented through the Rae Hughes gallery in Sydney and has held over 20 solo exhibitions locally and internationally. When describing what inspires her work, Karla says that it's usually personal experience.
"My work has always been about different parts of my story and a great avenue for me to work through different parts of my life. I have previously done a large installation on domestic violence, did a huge exhibition on loving memory, grief and loss. I do large bodies of work on things I'm going through.It's a bit of therapy."
Karla's entry in this year's Aboriginal Art Prize was the flag she had found, with crosses sown in to it, entitled 'Day of Mourning'. In her speech from the opening of the exhibition Karla spoke about the work in more depth:
"The majority of Australia celebrates 26 January by wrapping themselves in the red, white and blue flag, having barbecues and feeling proud to be young and free. I cringe, stay close to dear friends, do all I can not to leave the house and respectfully hold my grief — the grief for the old, grief for the continuous denial, grief for the disrespect, grief for the lack of acknowledgment and the poor choice of the day to celebrate. After finding the flag at the tip, I went about hand-sewing my grief, with one cross after another. Unfortunately, it's only a small gesture to reflect the true loss."
Karla said that she was more surprised with the reactions that she got after she won the prize than actually winning the prize in the first place. Her entry seemed to polarize people.
"I've had people congratulate me and say that it's a powerful and provocative work and had others opposed to it. That confuses me as I find it provocative that this country chooses to celebrate Australia Day on the 26th January. At the end of the day it's the way that I feel."
Karla has a solo exhibition coming up in the Rae Hughes gallery in Surry Hills.
To learn more about Karla and her artwork head to her website.