Former All Stars players and now members of the Australian NRL's Jillaroos squad, Bec Young and sisters-in-law Julie and Emma Young are on a high following Australia's win over New Zealand in the World Cup in Leeds.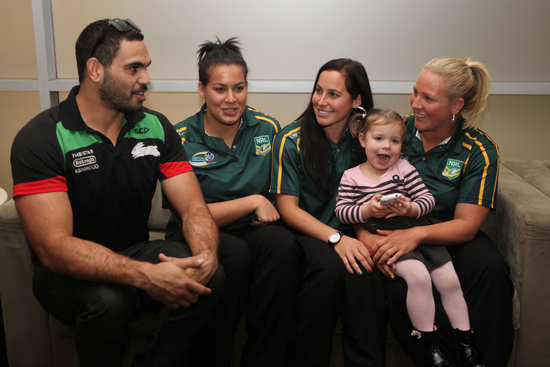 The Jillaroos managed to topple the three-time world champions in what was a hard-fought campaign by the Australian side throughout the rounds and semis, and into the final. The Jillaroos coach, Paul Dyer, says the win was a milestone.
"There've only been four Women's World Cups and the New Zealand girls had never been beaten. They were going for four in a row. For the Australian girls to beat the New Zealand girls in the final, was a significant milestone for the team," he says.
Bec Young, who plays in the front row, says the win and the experience of playing World Cup football was "unbelievable". "It was magnificent and a bit surreal at the time. New Zealand has taken over everything when it comes to the World Cup – but not this time," she says. "We had heaps of experience in the team and a good mix of younger players and experienced players. We had a big forward pack and plenty of speed out wide." Those players included Bec's sisters-in-law, Julie Young and Emma Young.
All three also played in the All Stars' side in February, and Bec was also co-captain. She was part of the NSW side in the Origin match against Queensland, where selectors were keeping a close eye on future international talent.
Once selected, the girls trained in Brisbane leading up to the Cup. This year, 2013, is the first that the NRL has sponsored the women's side, and it made the difference for the team.
"In the past we've had to pay to play for our country, but because we didn't have to fund it ourselves this year, it gave us the opportunity to just play footy," says Bec. "Over in the UK, I felt like a footy player. All we had to do was focus on our football. From the NRL's support in helping us get time off work to play internationally, through to the sports massages we were able to get – it made a real difference."
Playing in the city of Leeds, which is in the West Yorkshire region of England, was also a great experience for Bec. "It was old and beautiful and just a mad footy town. The fans were really good. They were surprised that women were actually playing football, but they gave us heaps of support. The Final was the most memorable out of all the games, particularly the point where we knew we were going to win," she says. "But our first game against England was really tough because we had to play two days after getting off a 40-hour international flight – and yet we were able to beat the host nation." Women's rugby league is an extremely physical game, which also involves a high degree of preparation, but Bec says the passion to play footy makes any sacrifices worthwhile. "I have a two-year-old toddler now and I also work as an Aboriginal Sites Officer in Port Stephens, so it gets busy, but I love the game and the passion that footy brings out in people. It's such a contact sport that you're protecting each other and you're playing hard for your side."
Women's football is no different to men's football, Bec says. "We train just as hard and we've got the same skill levels. People who don't know much about women's football always ask 'Do you guys tackle?' Yes,, we do." Bec plays in the front row – a position that 'lays the platform for the fancy footwork out wide'. She's married to former Newcastle Knights player Michael Young and hasn't completely ruled out playing in another World Cup. "I'm 32 now and would like to have more babies, but I would love to play in the All Stars again and maybe in a World Cup. It's in four years' time, so we'll see. I'd also love to coach and develop the sport more," she says. "I love seeing Kooris and Murris running around enjoying their footy. It's about saying you can do what you want to do, so get out and have a go."