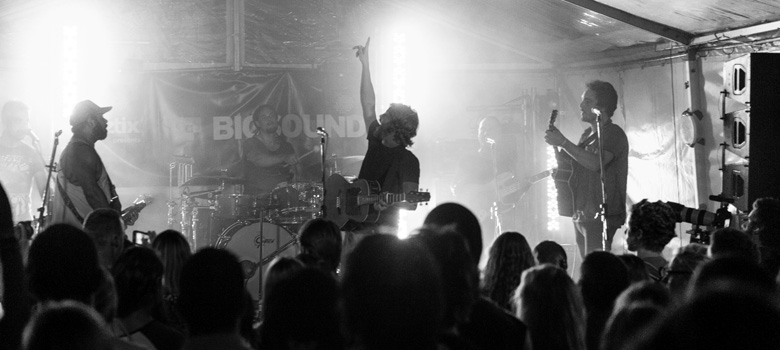 CAAMA Music has just returned from the BIGSOUND music industry conference in Brisbane where there was a strong Aboriginal and Torres Strait Islander music presence.
BIGSOUND is an annual conference produced by QMusic. It's in its 12th year and has a reputation as the best and most relevant music industry event in Australia.
The conference program which ran from 10-13 September, is also known around the world for its cutting edge topics and down to earth approach in tackling issues in what is one of the world's most rapidly changing industries.
CAAMA Music is owned and operated by Aboriginal people and has recently revitalised its label, after more than 30 years recording, supporting and promoting Indigenous Australian music.
Marketing and Communications manager Nicola Pitt from CAAMA Music attended the conference, along with its manager Michael 'Miko' Smith. It was an opportunity to meet with industry contacts including iTunes, Google and YouTube staff.
It was gave them access to media including triple j, Rolling Stone, The Age, Sydney Morning Herald and the Australian, to talk about the upcoming CAAMA Music album releases.
"Since CAAMA Music represents some of the most remote musicians in the whole country, it was important to get to the BIGSOUND music industry conference in Brisbane – to provide a link between these emerging, new voices from the desert with the wider Australian music community," Nicola says.
"By making contact with industry insiders at iTunes Australia, Google Play and YouTube, we're starting to pave the road for the exciting new releases we've got planned over the next few months – such as debut albums from Jacinta Price and Stewart Gaykamangu, as well as albums from BlekBala Mujik and Tjintu Desert Band.
"Hopefully, we will have some artists performing next year at BIGSOUND."
This year, Indigenous music was well represented at the conference, Nicola says.
"There was a BluesFest and Boomerang Festival showcase, featuring Shellie Morris and other artists," Nicola says.
"Virgin and QMusic have partnered for the past five years to produce a compilation album of Indigenous music from QLD. The launch was on the Thursday night at Electric Playground, also featuring Shellie Morris and other artists.
"Thelma Plum performed on the Thursday night at Black Bear Lodge, and Dubmarine performed the same night at The Zoo. The same night Dan Sultan also performed with Way of the Eagle, also at The Zoo.
"Gurrumul was the final featured artist to close the conference, and appeared on stage in a Q&A with representatives from Skinnyfish."