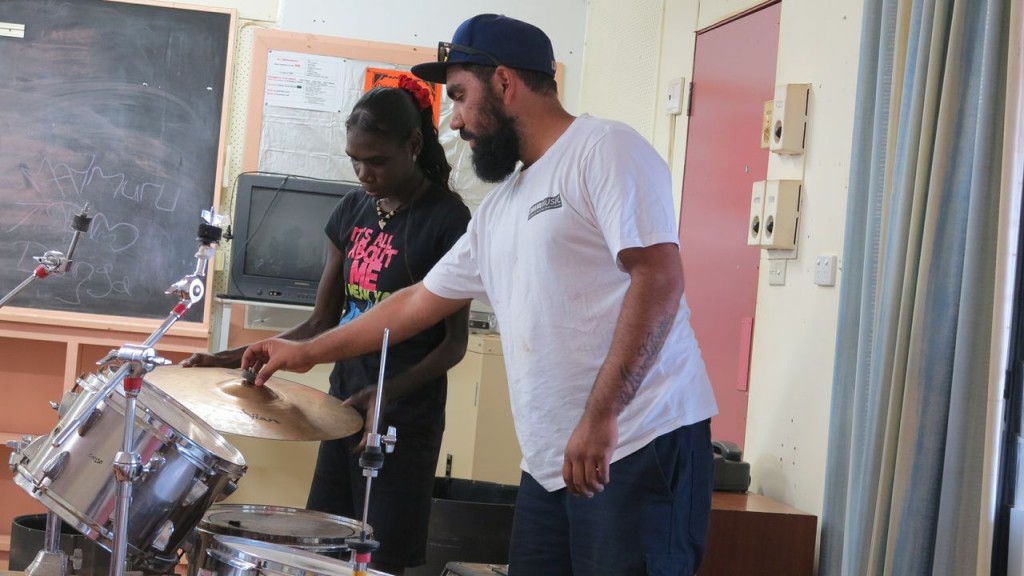 CAAMA Music recently conducted a month of musical training in Yirrkala as part of the Regional Music Development Program to further develop the skills of regional communities to record music, organise local community concerts and maintain musical equipment.
Yirrkala, in East Arnhem Land was the third community so far to benefit from the program with 22 participants from the community taking part in the Certificate II course offered by Charles Darwin University.
"We aim to empower the people in regional communities to record and preserve their culture themselves, and to then be able to pass on those skills to others," says Project Coordinator for the Regional Music Development Program, Robert Smits.
"In Yirrkala we offered the community workshops specifically tailored to different community groups and their requirements, while simultaneously receiving certified training in music production from Charles Darwin University."
"Over three years this program aims to provide continued training in order to cement the skills over a long period of time, and enable those skills to be passed on to others in the communities."
Music has always played an important role in traditional Aboriginal culture and with training from passionate and qualified professionals, CAAMA MUSIC sound producer, Mark McCormack, and trainee sound engineer Rohan Carmody, the program is gaining traction at the community level.
"In order to create music you need working musical instruments, and while there is often plenty of musical equipment in regional communities, there aren't many people who know how to maintain and repair it," says Robert.
"We want to build on the musical skills in communities, so that they can play music and record it, while also being able to replace a broken drum skin, re-string a guitar or tend to many of the other basic problems that can arise.
"There is so much musical talent in communities like Yirrkala and it's important to nurture and further develop that talent so that they can lead and build their own music industry up, and tell their own stories."
The Regional Music Development Program's fourth and final visit will be Papunya, home of Tjupi Band and the Butcher Family and Robert says it will be exciting to see how this musical community applies their skills.
"This is only the first year of the program, so there's still more to come, and scope for other communities to take part in the program," he says.