Deadly Vibe caught up with the streak of the Newcastle Knights to talk about the man, the game, and the future of one of Rugby League's hottest new talents.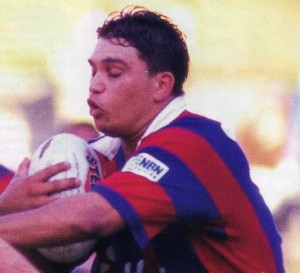 Deadly Vibe: So Owen, where are you from?
Owen Craigie: I'm from a place called Tingha just outside Inverell in north western New South Wales
Deadly Vibe: You have been making quite a name for yourself in rugby lately. You started off in athletics didn't you?
Owen Craigie: Yes, I played soccer until I was about ten and I did athletics until I was about 12. Then I played a bit of rep football and the Knights picked me up. Then I ended up coming down here.
Deadly Vibe: Didn't you travel over to America when you were a young kid for athletics?
Owen Craigie: When I was 14 I travelled over with the Australian Schools Athletics Team, and toured all over America.
Deadly Vibe: How different is athletics to Rugby League?
Owen Craigie: It is different, you do a lot of training for both, but with Rugby League there is a lot of intense work involved like weight training. With athletics a lot of running is involved.
Deadly Vibe: Did athletics give you a lead into Rugby League because you had to speed up?
Owen Craigie: When you have the speed you can do anything. That is handy when I play Rugby League.
Deadly Vibe: You are also a development officer with the Knights. What is involved with that?
Owen Craigie: We go to all the schools around the Hunter all over NSW just about. We go out there and teach all the young kids all the skills and development of being a good Rugby League player.
Deadly Vibe: How important is it do you think for kids to get into sport at an early age?
Owen Craigie: I think sport is good. Young people should raise their goals for a good education, but sport is very good as well. It keeps you out of trouble and it is good for you when you're young to be fit and healthy.
Deadly Vibe: Last year you had a bit of an incident with a player from another team. Do you want to tell the readers about that one?
Owen Craigie: It was when I was playing football. Knights against North Sydney at North Sydney oval and one of the players started giving out racial abuse, and I thought I would do something about it because I didn't like what he was saying at the time.
Deadly Vibe: The Australian Rugby League doesn't have a code like the AFL does it?
Owen Craigie: They have now though. They have brought in a code. With legal rights action being taken, they have brought out a little booklet. Now if it happens again you have got something to do it.
Deadly Vibe: Why do you think it took so long for the Australian Rugby League to bring in a code?
Owen Craigie: Probably because no one had ever spoken up about it before. I thought I would speak up because he didn't say the right thing and I didn't like what he was saying.
Deadly Vibe: Do you think that racism is being dealt with quite well in the Australian Rugby League now?
Owen Craigie: Yes it has been dealt with quite well now which is good to see.
Deadly Vibe congratulates Owen Craigie for all his success this year, and we look forward to much more to come.